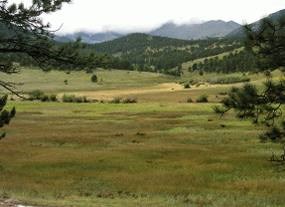 Elk & Vegetation Management Plan Fact Sheet-July 2011
Elk, (Cervus elaphus) or wapiti, are native to the Rocky Mountain National Park area, and have lived in the vicinity for thousands of years. However, by the 1870s, heavy and unregulated hunting had eliminated elk in the area. Around 1900, wolves, the only significant predator of elk in the area, had also disappeared. Elk were reintroduced to the area in 1913 and 1914, shortly before Rocky Mountain National Park was established in 1915.
In the absence of both significant predation and hunting, the elk population in the park flourished. By the early 1930s, elk numbers had increased to the point that National Park Service (NPS) managers expressed concern about deteriorating vegetation conditions on the elk winter range. Starting in 1944, the elk population using the park was limited primarily by having rangers cull the herd (kill elk by shooting). To a lesser degree, trapping and transplanting also were used to control elk numbers. For the next 25 years, the number of elk using Rocky Mountain National Park was maintained between 350 and 800 animals. In 1969, a natural regulation policy involving no active management within the park was instituted. It was believed that hunting in adjacent areas would control the elk population in and near the park.