Chronic Wasting Disease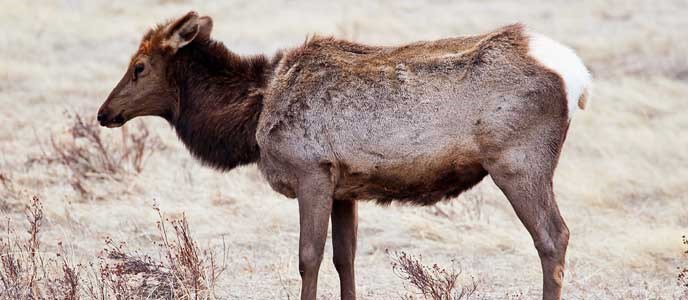 Chronic Wasting Disease (CWD) was first discovered in Rocky Mountain National Park's (RMNP) elk herd in 1981, but little is known about the disease's effects on free-ranging elk. Early CWD research in the park was possible because of the elk culling program authorized in the Elk and Vegetation Management Plan (EVMP). Out of 131 total elk removed between 2008-2011, 79 were used for CWD testing research.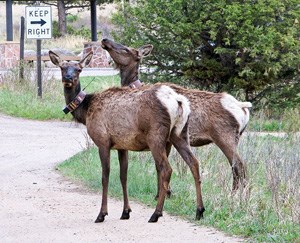 Current research focuses on monitoring the disease and examining its effects on population dynamics. Many of the collared elk found in the park are part of this research.
Chronic Wasting Disease: What is it?
Chronic Wasting Disease (CWD) is a wildlife disease that affects elk and deer. The origins of CWD are unknown and symptoms can take months or years to surface. An abnormal protein, called a prion, infects the animal's nervous system causing behavioral and physical changes, brain deterioration and eventual death. No research suggests a cure or immunity, and the disease is always fatal.
Chronic Wasting Disease Research
The first phase of research (2008-2011) in RMNP evaluated methods for testing CWD in live elk using rectal biopsies. Before this time, the disease could only by diagnosed after death. The study period coincided with the EVMP's initial population reduction program. Elk were captured, live tested for CWD, euthanized if found CWD positive, and tested postmortem to confirm the disease. Results showed that live rectal biopsies could be a useful monitoring tool, but may miss or underestimate CWD prevalence.
This study also refined CWD prevalence estimates in the park using postmortem tests. In the early 1990s, CWD estimations in elk of the surrounding area were as low as one percent. Since 2008, the proportion of female elk infected with CWD in the park has fluctuated between 6-13 percent (Monello et al. 2014, Monello et al. 2013). CWD was also found to be the leading cause of death among adult females.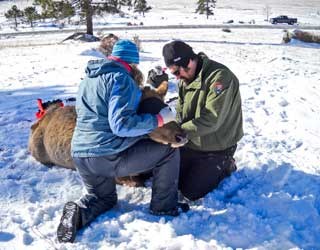 Since 2011, researchers from the NPS Biological Resources Management Division (BRMD) have been determining if CWD is increasing, decreasing or relatively stable among adult female elk in RMNP. Around 100 females with brown collars are part of this research project. They will be tracked for five years and information from the collars will be collected. The results of this study will reveal whether CWD is influencing elk population growth in the park.
Controlling CWD itself is beyond the purpose of the Elk and Vegetation Management Plan. If research suggests a need to manage the disease, it would be addressed by a separate disease management plan.
Find more information about elk and vegetation management below.

Last updated: March 31, 2016