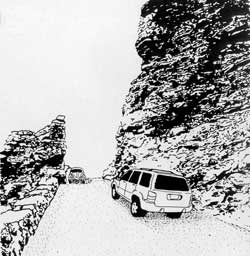 Construction on Trail Ridge Road began in September, 1929 and was completed to Fall River Pass July, 1932. Trail Ridge was built to counter deficiencies of Fall River Road. The Fall River route was too narrow for the increasing numbers of vehicles. Frequent snowslides, deep snow, and limited scenic views also plagued the route.
The maximum grade on Trail Ridge does not exceed 7%. Eight miles of the road are above 11,000 feet in elevation. Two different contractors were hired to complete different sections of the road. The first section completed, 17.2 miles, was Deer Ridge (8,937') to Fall River Pass (11,794). The road reached Grand Lake in 1938.
During road construction, workers had only about 4 months of the year (mid-June to mid-October) to work. The presence of permafrost required that careful attention be paid to construction to avoid permanent quagmires. Planning efforts sought to reduce scarring on the surrounding landscape. Natural construction debris was removed. Log and rock dikes were constructed to minimize scarring and scattering of rock blasting debris. Extra surface rocks were placed lichen-side up. Tundra sod was salvaged and carefully placed on road banks. Rock projections were kept as scenic "window frames" instead of being blasted away. Rocks matching the surrounding land were used for rock walls.
Tractors, graders, horses, a gas-powered steam shovel were used to make the road. During the peak of construction, 150 laborers worked on the road.
To learn more about the history of the park, read a Brief Park History on this website.