People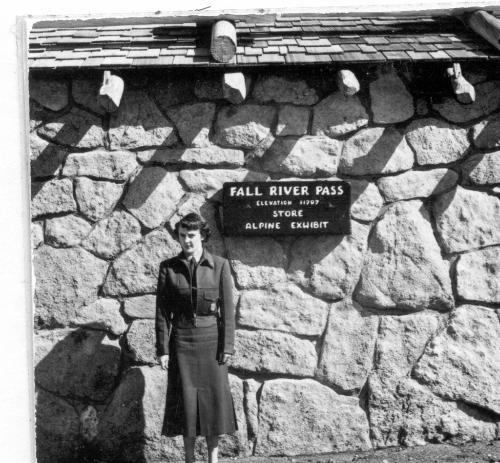 Women have held a special place in national park conservation from the early days of the idea. Women worked hard all over the country to teach Americans how valuable national parks would be to our children's education and to our identity as Americans. Women have been explorers and authors. Some frontier women worked hard to establish their own property rights over homesteads and became successful inn owners. In the 1920s and 1930s women came on the scene as park staff, leading visitors into the heights of the Rocky Mountains.
Isabella Bird
"I have dropped into the very place I have been seeking, but in everything it exceeds all my dreams... The scenery is the most glorious I have ever seen, and is above us, around us, at every door." - Isabella Bird, A Lady's Life in the Rocky Mountains
Isabella Bird was an Englishwoman of astounding accomplishments. Throughout her life she traveled through North America, Asia, Europe and Australia. She became the first woman to be accepted into the Royal Geographic Society in Great Britain. Often ill when she stayed in one place for too long, Isabella Bird supported herself through writing about her adventures. One of those adventures was to the place that would become Rocky Mountain National Park.
On a trip to "the Sandwich Islands" (Hawaii) in the early 1870's, Bird learned about a place that supposedly was, "the most beautiful country in all of the Americas". She set out for Colorado, heading to the mountain town of Estes Park. She resided at Griff Evans' Cottage Camp on Fish Creek and went exploring throughout the Estes Park valley and even to the heights of Longs Peak. She became the second woman known to climb it. Anna E. Dickinson had been there as a guest of Professor Hayden, of the Hayden expedition, only a month before. Bird's guide, Jim Nugent - more famously known as "Rocky Mountain Jim", often accompanied her on her daily travels. The friendship between a genteel Englishwoman and an American mountain man outlaw became a legend in the Estes Park area.
She chronicled her trip in a book called A Lady's Life in the Rocky Mountains, which was published in 1879. The book was made from a collection of letters she had written to her sister back in Scotland. The book became so popular in Great Britain that it was later exported to France. Her writings created an interest in Estes Park, which was growing as a tourist destination. Writers like Isabella Bird were integral in the interest and establishment of national parks.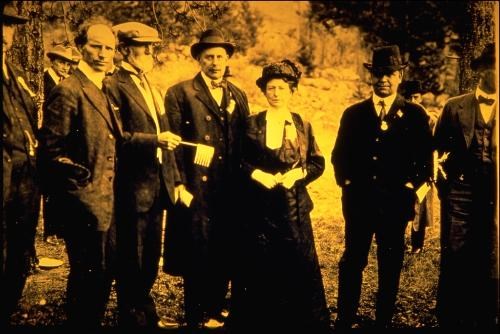 Mary Belle King Sherman
Many passionate people worked together to lobby, promote, and gather public support for Congress to pass enabling legislation to create the park. Another one of these individuals was Mary Belle King Sherman.

Mary Belle King Sherman was a parliamentary law instructor at the John Marshall School of Law in Chicago and a philanthropist. In 1909, she and her husband John Dickenson Sherman moved to Estes Park, Colorado.

Mary Belle used her influence with the Federated Women's Club to gain public support for the establishment of Rocky Mountain National Park. In the early 1900s, she was one of the first advocates for the idea that children gain health benefits from spending time in the outdoors.

Mary Belle traveled and lectured at women's clubs across Colorado and in other states to cultivate the public support of women for establishing a new national park. On March 13, 1915, at the National Park Conference held in Berkeley, California, she stated, "every community should have a place in which the people may spend their leisure time, where they will be brought in direct contact with things of beauty and interest in the outdoor world."

Mary Belle King Sherman later became known as the "National Park Lady." She served as Chairperson for the Conservation Department of the Federated Women's Clubs and worked to build public support for the creation of Grand Canyon and 5 other national parks.
Imogene Green MacPhearson
Born Mary Imogene Bates of Indiana, Imogene Green MacPhearson lived an entrepreneurial life. During the Civil War she bravely crossed into the Confederate South to rescue her husband when he was ill in a Union Camp. Together they built one of the first veteran's hospitals and many other businesses. However, they divorced in 1894 due to domestic problems. MacPhearson set out west to Denver after her marriage ended to spend some time in the Rocky Mountains. One summer she stayed at Abner Sprague's dude ranch and instantly fell in love with the area. She purchased a homestead near the Spragues and named it "Hillcrest". She received a patent for the land in 1903. She married William D. MacPhearson a few years later.
MacPhearson was involved in the Estes Park Women's Club which established the library in Estes Park, while expanding her property to become a tourist destination. The first building was erected in 1905 and was followed by cabins, a livery stable, a main lodge, and a dining room. The first guests were welcomed in 1910 to the Moraine Park Lodge. The Lodge commanded a a grand view of the Moraine Park valley. MacPhearson ran the lodge herself, her husband only allowed to clerk the front desk. She was thrilled that her property was included in the proposed national park. She continued to promote her own business and purchase several others in the Estes Park area during the early 1900s.
The only building of the Moraine Park Lodge remaining today is the Assembly Hall, built in 1923. When the National Park Service purchased the property in 1931 it was transformed into the Moraine Park Visitor Center which now serves thousands of visitors every summer.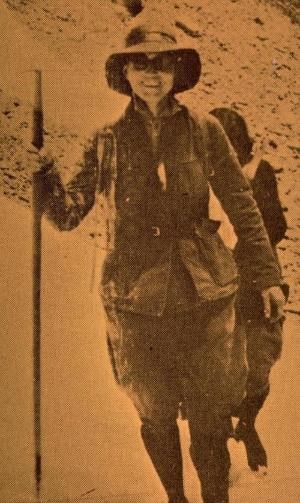 Elizabeth and Esther Burnell
Elizabeth and Esther Burnell were sisters who came to Estes Park in the summer of 1916 to stay at the Longs Peak Inn. Both women were college educated and enjoyed the Estes Park area. Esther purchased a homestead near MacGregor Pass where she stayed with enthusiasm, even through the harsh Rocky Mountain winters. She became famous for a 30-mile snowshoe across the Continental Divide.
In 1917, the two sisters were encouraged by Enos Mills to take the examination to become nature teachers. Both sisters passed. They became licensed by Rocky Mountain National Park as nature guides. Superintendent Claude Way felt they filled a longstanding need, and they became very popular guides. Although Way sought to limit female nature guides to one-day hikes below treeline, Elizabeth became the first woman guide on Long's Peak. Elizabeth went on to head Enos Mills' trail school for 12 summers before heading to Los Angeles to promote nature study in schools.
In 1918, Esther Burnell married Enos Mills and helped him operate the Longs Peak Inn. After Mills' unexpected death in 1922 she continued to run the inn and promote her husband's writings for more than 20 years.
Margaret Fuller Boos
In the summer of 1928, Margaret Fuller Boos became Rocky Mountain National Park's first female ranger-naturalist. Women were not allowed the title of Park Ranger until several decades later. She had recently earned her PhD in Geology and had done research for a comprehensive geology guide for the Front Range. Superintendent Roger Toll hired her because of her speaking and teaching experience, and because he hoped she would add to the park's collection of lantern slides for interpretive programs.
She worked the summers of 1928 and 1929, running Rocky Mountain National Park's interpretive program. She led dozens of hikes and taught evening programs wearing the same uniform as the men. She wrote over twenty articles for Nature Notes, a park publication that discussed many natural science topics. During her time as a ranger-naturalist, Boos also created a geology guide for the park. She was offered a permanent position in 1929, but she turned it down to work with her husband elsewhere. Later in her life she helped establish the Geology Department at the University of Denver.
Last updated: March 22, 2022