Rocky's Teacher in Residence Program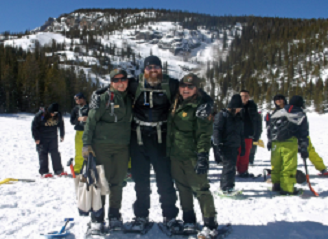 The Teacher in Residence program provides opportunities for teachers to have rich work experiences in a national park. Teachers return to the classroom and share their experiences and knowledge of these American treasures with children while national park education curriculum benefits from their expertise.





Program Background
Teachers in Residence spend 2 weeks working alongside the Education and Outreach team at Rocky Mountain National Park primarily focusing on field trip curriculum.

During the school year, teachers bring their students on field trips to RMNP as well as invite Education Rangers into their classrooms to connect their students to their National Parks.
Dates of Service

Negotiable: 2 weeks from June - August*
*Commitment is forty hours per week for 2consecutive weeks

Benefits
To Teachers:
Obtain a wide range of new knowledge and skills by working with park staff and partners
Enhance their curriculum in multiple content areas
Gain access to a wide array of teaching resources and tools
: Volunteer uniform hat and shirt provided
Stipend upon residency completion: $800
To Schoolchildren:
Provide an opportunity to connect to their nation's heritage in new and creative ways
Learn about volunteering and employment with the National Park Service
Receive new tools and resources for exploring natural and cultural history
To Rocky Mountain National Park:
Reach new or under-served audiences
Build a network of enthusiastic, knowledgeable educators who are able to teach their students and colleagues about National Parks
Enrich the park visitor experience and the education program through the expertise and programming offered by the Teacher in Residence
Qualifications
Rocky Mountain National Park seeks teachers of exceptional ability who think and act creatively, have demonstrated communication and problem solving skills, and are fully computer literate.

Candidates must be dedicated to and experienced with learner-centered education with children.

The 2021 program is open only to teachers in the local commuting area who attend or are able to attend RMNP ranger led field trips with their classrooms.
Duties & Responsibilities
Each teacher will review and create or overhaul content stations for existing or potential field trips to RMNP. Complete reviews will include: grade level standards alignment, grade level appropriateness, activities, and content. Ideally, program outlines will be updated and new, interactive, hands-on activities for the learning stations that best build off of classroom learning will be developed.
Application Process

To apply, please submit a letter of intent by email.

Application Deadline: Positions are open until filled.

Email application to: Katie Phillips RMNP Education Program Manager
More Information
For more information contact the Education and Outreach Office, via e-mail or by phone (970-586-1338).
Last updated: February 12, 2021