Rocky's Teacher in Residence Program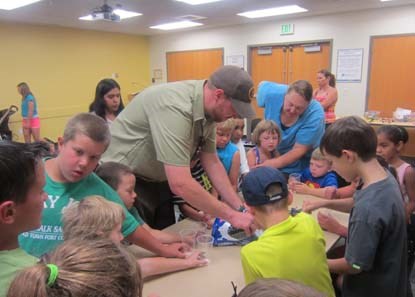 The Teacher in Residence (TiR) program at Rocky Mountain National Park provides opportunities for in-service teachers of Colorado's Front Range who are within a one-day's field trip distance to spend June and July working in Rocky Mountain National Park connecting with the resources and participating in a variety of duties that suit their interests and the needs of the park's education program. Teachers lead activities and develop lesson plans based on their park experience for use in their classroom and in the park. The program focuses on teachers from schools with ethnically diverse student populations, who have had little or no experience with national parks or limited opportunity to explore them. Teachers from Title I schools are especially encouraged to apply.
Program Background
Teachers spend 8-10 weeks working and living in the park. During this time, the park provides a ranger uniform, shared housing, and a stipend. Once they return to their schools, teachers bring national parks into the classroom throughout the school year. During National Park Week in April, teachers engage their classrooms and other teachers in activities that relate to Rocky Mountain National Park.
Benefits
To Teachers:
Obtain a wide range of new knowledge and skills by working with park staff and partners
Enhance their curriculum in multiple content areas
Gain access to a wide array of teaching resources and tools
Fulfill a life-long dream of working in a National Park
To Schoolchildren:
Provide an opportunity to connect to their nation's heritage in new and creative ways
Learn about volunteering and employment with the National Park Service
Receive new tools and resources for exploring natural and cultural history
To Rocky Mountain National Park:
Reach new or under-served audiences
Build a network of enthusiastic, knowledgeable educators who are able to teach their students and colleagues about National Parks
Enrich the park visitor experience and the education program through the expertise and programming offered by the Teacher in Residence
Potential Park Experiences
Teacher in Residence assignments and projects will depend upon the individual hired and current park projects. Training in natural and cultural history and the National Park Service mission will be provided. Duties may include observing, preparing, and presenting educational or public programs; planning and facilitating summer camp programs; developing educational and interpretive materials and media; providing community outreach; working with other divisions in the Park; and assisting with teacher workshops.
Application Process
Position filled for summer 2017.
More Information
For more information contact the Education and Outreach Office, via e-mail or by phone (970-586-1338).
Last updated: March 28, 2017