Exotic Plant Control in Rocky Mountain National Park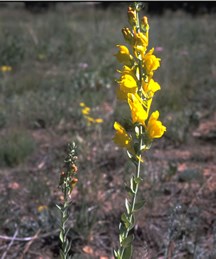 As of fall 2004, over 100 species of exotic plants had infested over 425 acres of land within the park. Of these, 35 species are of particular concern because they are aggressive and invasive and have the potential to displace native vegetation. The Invasive Exotic Plant Management Plan states that these 35 invasive exotic plant species will be managed using Integrated Pest Management (IPM). IPM techniques include mechanical, cultural, biological, chemical, and low risk methods such as using scalding hot water to control invasive exotic plants.
Of the 35 invasive exotic plant species addressed by the plan, herbicides will likely be used on ten species that do not respond well to other methods of control. To further limit the use of herbicides, the plan states that herbicides will be used as a last resort, and the plan establishes threshold populations for the 15 species. When the population exceeds the threshold for one of these 15 species, herbicides could be used to reduce the population below the threshold level. As long as the population remains below the threshold, other IPM techniques would be used to keep it in check.
Prior to 2003, invasive exotic plant control work within the park had been carried out without the use of herbicides. During this time, and despite our best efforts, some populations of invasive exotic plants had expanded and exceeded the threshold levels identified in the plan. For this reason, we are proposing to treat 20 acres within the park using herbicides this year. Using the treatment schedule and population thresholds established by the plan, we believe the park can be herbicide free within the next three to five years. The park would remain herbicide free as long as the populations of the ten exotic plant species remain below the defined thresholds and can be kept in check using the other IPM techniques.
Last updated: March 31, 2012