Earthquake: Could it Happen Here?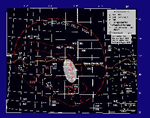 Clicking on the accompanying figures or photos will open up a larger version.
As every earth science student knows, mountains are associated with uplift and uplift is associated with seismic activity – earthquakes. Rocky Mountain National Park's high peaks suggest past, and possible future, earthquake activity. In fact, the largest recorded earthquake in Colorado (1882) was likely centered near the north boundary of the park. This quake occurred before recording seismometers were invented and the "epicenter" location has been extrapolated from data on reports regarding the initial shock event and also the largest after-shock. The U.S. Geological Survey map (Figure 1), shown on the right, indicates the felt area and felt intensity for the initial quake and after-shock with an epicenter interpolated to the nearest 50 km. The felt area information along with damage reports has been used to estimate a quake magnitude of 6.6 (plus or minus 0.6). For comparison, the 1994 Northridge earthquake in Southern California had a magnitude of 6.7.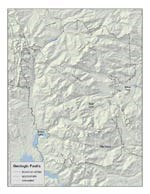 Earthquake faults are mapped lines of past movement and rupture. Locations of the park's known, approximate, and concealed faults are shown in Figure 2. Unlike heavily populated California, where faults have been mapped in great detail, the map of the park's faults is somewhat incomplete. Faults can be especially hard to discern in areas of homogenous-looking granite.
The U.S. Geological Survey's Central Region Geologic Hazards Team states that, based on current knowledge, the repeat interval along the Front Range for an earthquake as strong as that experienced in 1882 is on the order of every 1000 years. Smaller events, in the range of magnitude 5.0-5.5 occur more frequently, perhaps with a reoccurrence on the order of decades.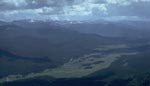 In addition to potential movement along the Front Range, seismic activity also occurs in the volcanic formations on the northwest corner of the park. The Never Summer Range and Kawuneeche Valley faults are related to a large uplift and rupture zone, the Rio Grande Rift, that extends from Casper, Wyoming, south to El Paso, Texas. Local east-west movement of the Never Summer Range/Kawuneeche Valley faults created the valley and allowed the upward flow of the volcanic material that forms the Never Summers. Potential earthquake magnitudes in this area are 6.7, and even higher south of the park near the Collegiate Peaks.
The geologic record of the park leaves little doubt that sizable earthquakes will happen here in the future. For additional information please see the USGS National Earthquake Information Center web site and the excellent Messages in Stone: Colorado's Colorful Geology published in 2003 by Colorado Geological Survey.
Last updated: March 31, 2012