A Beer Drinking Bird?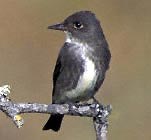 The olive-sided flycatcher, a nesting species in Rocky Mountain National Park, is on a national "bird watch" list. This species has undergone significant range changes during the 20th century, including extirpation (local extinction) in some states. Evidence in the western U.S. links the olive-sided flycatcher with clear cuts and burns suggesting that the birds use mosaic habitats. Thus, in some cases, the disappearance of the flycatchers may reflect natural processes of forest recovery.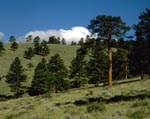 Monitoring populations of highly mobile bird species is challenging. Cornell Ornithological Laboratory has developed a simple field process (called a protocol) that allows "citizen scientists" to use taped bird songs and calls to assess presence and observe nesting behaviors for several forest species of concern, including the olive-sided flycatcher. What makes the Cornell Birds in Forested Landscapes Project powerful is that data is collected by teams, throughout the range of the bird, using the same techniques.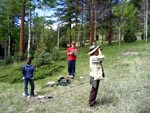 At the park, Eagle Rock School students from Estes Park under the leadership of science instructor Janet Johnson are using the Cornell protocol to check for the nesting presence of the flycatcher at four locations. Flycatchers are notoriously difficult to identify, but students study pictures and listen to taped birds calls until they can confidently know "their bird." It helps that the mnemonic for the olive-sided flycatcher song is "quick THREE BEERS."
Last updated: March 31, 2012