Permits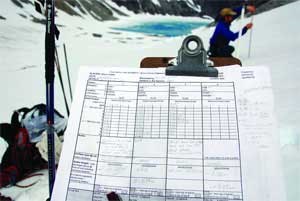 Research conducted in national parks requires an appropriate permit issued by the NPS. Permits are necessary because the NPS is responsible both for conserving the scenery, national and historical objects, and wildlife of national parks and for allowing current and future generations to enjoy national parks in an unimpaired condition. Meeting that mandate requires the generation and application of scientific knowledge, as well as the regulation of scientific research activities to ensure they are consistent with each park's management policies.
Permits are issued by individual parks. In many cases, RLC staff can assist researchers in applying for permits and in designing research studies so they are consistent with policy. Researchers should consult the relevant websites listed below before contacting RLC staff.
Scientific Research and Collecting Permit
Most scientific research activities inside a park that involve fieldwork or collection of specimens or samples, or have the potential to disturb resources or visitors, require a Scientific Research and Collecting Permit. Examples of activities include species surveys involving capture or collection, environmental sampling that disturbs soil or water, fossil excavation, and placement of equipment or plot markers that may be noticed by visitors. Permit applications, guidelines, and other details are on the Research Permit and Reporting System website.
Archeological Permits
All archeological fieldwork in national parks requires an NPS Permit for Archeological Investigations. Investigators working on NPS archeology projects under contract or cooperative agreement are exempt. Archeological studies that involve sampling or measuring natural resources may also require the Scientific Research and Collecting Permit mentioned above. For further details about Archeological Research Permits, see the NPS Archeology Guide.
Approval of Social Science Surveys
Social science researchers conducting surveys in which 10 or more members of the public (park visitors, potential park visitors, and residents of communities near parks) will be asked the same set of questions and in which the NPS sponsors the research must get approval from the Federal Government Office of Management and Budget (OMB). NPS sponsorship is not limited to financial support and may include in-kind support, assistance with survey administration, involvement in development of survey instruments, etc. Studies in which information about people is collected only through observation are exempt from this requirement. Depending on the park, survey research may also require the Scientific Research and Collecting Permit mentioned above. Researchers who wish to conduct a study that requires OMB approval must submit a package of information to the NPS Social Science Division at least 60 days before the survey is to be administered. For details, see the NPS Social Science Division's Information Collection page.
Additional Permit Requirements
Some research activities may require additional permits or approvals by other governing bodies before the NPS can issue a permit for research in a park. Examples include research on live animals that requires approval by an Institutional Animal Care and Use Committee, surveys that require approval by an Institutional Review Board, research on migratory birds that requires permits from the U.S. Fish and Wildlife Service, and research on state or federally threatened or endangered species. Additionally, some research activities may require an NPS Special Use Permit. Researchers should discuss with RLC or park staff whether a Special Use Permit is required.
Last updated: April 18, 2016