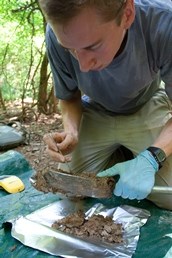 Information For Researchers
Research data provide valuable information to assist with the management of park resources. The Old-Growth Bottomland Forest Research and Education Center works to integrate research into the visitor experience, park resource management, and educational outreach programs.
Research Needs at Congaree
Please visit our Research Needs Page to learn more about research opportunities at Congaree National Park.
Please contact our Research & Education Center if you are interested in conducting research. To submit a research permit application electronically visit: NPS Permit Guidance
Facilities
Laboratory | Classroom | 12-bed Dormitory | Kitchen | Equipment Storage | Laundry Facilities | Shower/Restrooms
Research Summary Publications
The summary publications below provide the best available translantion of academic reports, scientific data, and scholarly manuscripts to make these resources more accessible.