About Us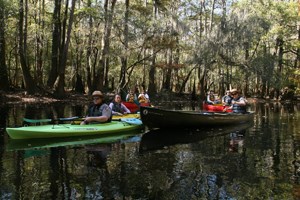 The Old-Growth Bottomland Forest Research and Education Center was established at Congaree National Park in 2001. Congaree National Park, in turn, protects over 26,000 acres of forested floodplains along the Congaree and Wateree rivers in central South Carolina, including 11,000 acres of old-growth forest.
The center's mission is to advance scientific understanding and appreciation of riverine and forested landscapes across the Southeastern United States. This is focused on NPS units within the Southeast Coast Inventory &Monitoring Network but extends to include other NPS parks, federal lands, and partner interests within those watersheds.
The goal is to promote improved management and stewardship of natural and cultural resources by the NPS as well as other public and private interests. To support this goal, the center pursues funding and partnerships focused on understanding hydrologic, biologic, geologic, and anthropologic factors affecting ecological structure, function, process, and integrity of these landscapes. The center seeks to apply a variety of scientific research tools, including GIS, modeling, field data collection, statistics, metanalysis, and citizen science to study these landscapes. Examples of studies include flood modeling, hurricane disturbance recovery, feral hog telemetry, monitoring well installation, Carolina bogmint surveys, ivory-billed woodpecker surveys, and geologic mapping, and archaeological surveys.
The center seeks to apply and evaluate a variety of education approaches including direct programming, publications, workshops, and digital media. Examples of education programs include Junior Ranger Ecology Camp, Moth Blitz citizen science programs, undergraduate field science courses, Linking Ecology and Art of Floodplains programs, teacher workshops, Great Backyard Bird Count citizen science programs, and participation with the Earth to Sky climate change communication program.
Contact Us
Old-Growth Bottomland Forest Research and Education Center
Congaree National Park
100 National Park Road
Hopkins, SC, 29061
803-776-4396 Park Office
803-783-4241 Fax
Frank Henning, Ph.D.
Director
803-647-3963
e-mail us
David C. Shelley, Ph.D.
Education Coordinator
803-647-3966
e-mail us
Last updated: October 10, 2014