CongaReesources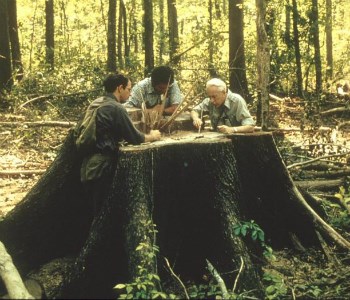 This list is a compilation of all references used for our climate change communications web pages for Congaree National Park.
These references include academic and governmental publications, management documents, websites, and interactive tools centered on environmental policy, resource management, and climate change.
Allen, B. P., Sharitz, R. R., & Goebel, P.C. (2007). Are lianas increasing in importance in temperate floodplain forests in the southeastern United States? Forest Ecology and Management, 242, 17-23.
Binnette, P. (2010). USC geographers swamped in climate research. University of South Carolina Office of Media Relations. Retrieved from http://www.sc.edu/news/newsarticle.php?nid=1394&pg=3#.VX8V3vlVhBc
Carbone, G. J. (2013). Managing climate change scenarios for societal impact studies. Physical Geography, 35, 1, 22-49.
Carolinas Integrated Sciences and Assessments (CISA). (2014, December 10). Water, Climate Change and Congaree National Park. Retrieved from https://www.youtube.com/watch?v=GMJQdfR5-2w
Carter, L. M., Jones, J.W. et al. (2014). Our Changing Climate: Southeast and the Caribbean. Retrieved from http://nca2014.globalchange.gov/report/our-changing-climate/introduction
Cuthbert, L. (2015). Bumblees Decimated By Climate Change: Study. Discovery News. Retrieved from http://news.discovery.com/animals/insects/bumblebees-decimated-by-climate-change-study-150713.htm
Intergovernmental Panel on Climate Change. (2014). Climate Change 2014 Synthesis Report for Policymakers. Retrieved from http://www.ipcc.ch/pdf/assessment-report/ar5/syr/AR5_SYR_FINAL_SPM.pdf
Meitzen, K.M. (2011). Flood processes, forest dynamics, and disturbance in the Congaree River floodplain, South Carolina. Retrieved from ProQuest Digital Dissertations.
National Park Service, Department of the Interior. Climate Friendly Parks Program. Composting. Retrieved from https://www.nps.gov/climatefriendlyparks/involved/resources/composting.html
National Park Service, U.S. Department of the Interior. (2009). Congaree National Park Big Trees! Retrieved from https://www.nps.gov/cong/planyourvisit/upload/Big%20Tree%20Brochure.pdf
National Park Service, U.S. Department of the Interior. (2014). Congaree National Park: Geologic Resources Inventory Report. Retrieved from https://www.nature.nps.gov/geology/inventory/publications/reports/cong_gri_rpt_body_print.pdf
National Park Service, U.S. Department of the Interior. (2012). Green Parks Plan. Advancing our Mission through Sustainable Operations. Retrieved from https://www.nps.gov/greenparksplan/downloads/NPS_2012_Green_Parks_Plan.pdf
National Park Service, U.S. Department of the Interior. Prince William Forest. Climate Friendly Parks. Retrieved from https://www.nps.gov/prwi/learn/nature/prince-william-climate-friendly.htm
Shelley, D. (2012). Climate Change at Congaree National Park: Realities and Communication Paradigms. [PDF document]. Retrieved from http://www.dnr.sc.gov/ccworkshops/pdf/CCWSOct24Shelley.pdf
Todd, B. D., Scott, D. E., Pechmann, J. H. K., &Whitfield Gibbons, J. (2011). Climate change correlates with rapid delays and advancements in reproductive timing in an amphibian community. Proceedings of the Royal Society B, 278, 2191-2197. http://srelherp.uga.edu/projects/docs/rbay/RainbowBay-Phenology-Climate-2011.pdf
Union of Concerned Scientists. Cars and global warming. Retrieved from http://www.ucsusa.org/our-work/clean-vehicles/car-emissions-and-global-warming#.VXnADM9Viko
U.S. Environmental Protection Agency (EPA). (Updated 2012). Green Building. Whole House. Retrieved from http://www.epa.gov/greenhomes/WholeHouse.htm
U.S. Environmental Protection Agency (EPA). (Updated 2015). Reduce, Reuse, Recycle. Retrieved from http://www2.epa.gov/recycle
U.S. Environmental Protection Agency (EPA). (Updated 2015). Sources of Greenhouse Gas Emissions. Commercial and Residential Sector Emissions. Retrieved from http://epa.gov/climatechange/ghgemissions/sources/commercialresidential.html
U.S. Environmental Protection Agency (EPA). (Updated 2013). Wastes –What You Can Do. Retrieved from http://www.epa.gov/wastes/wycd/index.htm
Last updated: August 3, 2015