Impacts at Cape Lookout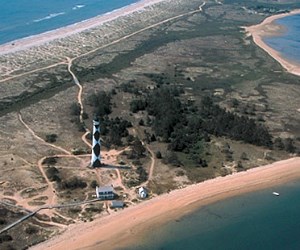 Cape Lookout National Seashore draws over four hundred thousand visitors every year. The coastal ecosystem offers recreation for humans, provides habitat for wildlife and plants, and showcases maritime history.
Climate change is already impacting the islands. Increased storm intensity, rising sea levels, and higher temperatures contribute to changed island dynamics that will impact humans, animals, plants, and historical objects in the area.
Sea Level Rise
Coastal cities in North Carolina are experiencing different rates of sea level rise. Subsidence, or the sinking or caving of the land, has much to do with this variation across regions.
In Beaufort, sea levels have risen approximately 2.6 millimeters per year since 1973. This continued rise will severely impact the natural and cultural resources at Cape Lookout.
Saltwater intrusion is the invasion of saltwater in areas that historically retain and use freshwater. Intrusion from rising sea levels reduces the amount of freshwater available for plants and animals. Without a quality fresh water source, many species cannot survive.
Increased saltwater content can severely affect freshwater ecosystems. Cape Lookout's famous wild horses must have access to freshwater, and many native plants cannot grow in soil that is too salty. Humans will be impacted as well: saltwater intrusion results in lack of quality water for us to drink.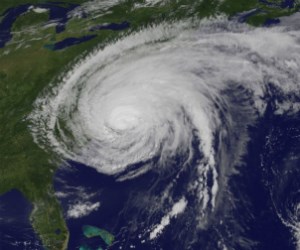 Hurricanes and Storm Surges
The Southeast region can expect an increase in the frequency and intensity of hurricanes and storm surges. High winds and strong waves affect the geography and stability of barrier islands. These processes reshape Cape Lookout National Seashore, creating new inlets, eroding beaches, and carrying sedimentation to different areas across the islands.
Sedimentation builds land mass, but the rate of land elevation will not be able to match the rate of rising sea levels. The ecosystem will be thrown out of balance as land disappears: the flora, fauna, and history that give Cape Lookout its flavor may be irreparably damaged.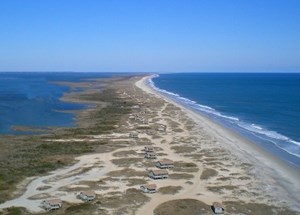 Beach Erosion
As sea levels rise, beach erosion accelerates. Beach erosion results in less area to recreate and fewer habitats for terrestrial plants and animals. Fishing, duck hunting, wildlife viewing, and beach activities will be affected by decreased land mass.
Historic structures are under threat from beach erosion. Everything from fishing huts to Portsmouth Village to the Cape Lookout Lighthouse is being impacted. Cape Lookout staff are working to assess all seventy historic structures to determine which can still be saved and which will be lost to the ocean. As the beach disappears, more of the park's history disappears with it. This is a problem for many historic treasures along the United States coastlines. [PDF, 3.21 MB]
Our best chance in the fight to protect Cape Lookout is to mitigate our carbon footprint, adapt to the changes we are already experiencing, and prepare for future impacts by working to keep the beaches and infrastructures as stable as possible.
Last updated: August 3, 2015