Floating Mariscal Canyon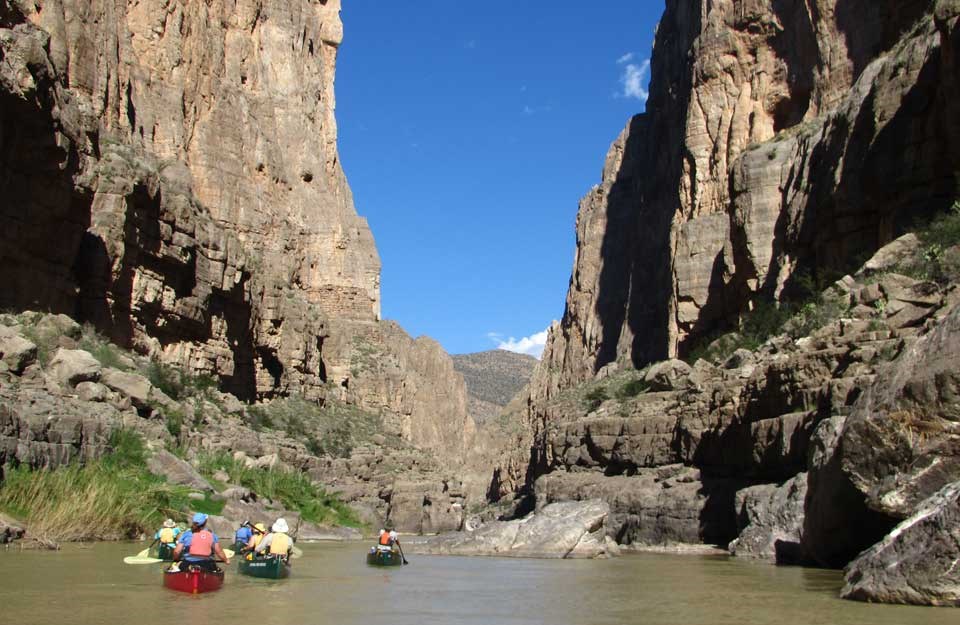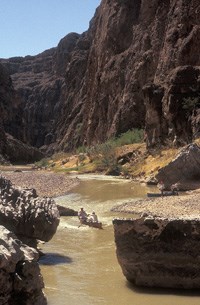 Magnificent Mariscal
Since you need a high clearance vehicle to reach Mariscal Canyon, it is a wonderfully remote day or overnight river trip. It is the shortest canyon in the park, 10 miles long, with varied scenery and stunning limestone cliffs rising up to 1,400 feet. Mariscal can be floated in a day at water levels above 300 CFS. A few Class II-III rapids (depending on water levels) give this excursion some excitement. At water levels above 1000 CFS open boats should use caution.
Check with a ranger about road conditions along the River Road before embarking on your journey.
Put-In and Take-Out Information
High clearance vehicles are usually required to reach both Mariscal Canyon access locations. Count on two to two and a half hours driving time from Panther Junction to Talley. It is a good idea to go to Solis before you put in at Talley and scout the area to be able to recognize it from the river. It is best to have someone available to drop off your crew and gear at Talley, then meet you at Solis.

Put-in: Talley is the put-in for Mariscal Canyon. Be sure to check road conditions before making your final plans. The river road is rarely passable to passenger cars and sometimes is so rough as to be passable only to four- wheel-drive vehicles. Be especially careful to avoid getting stuck near the end of the Talley road, where you will encounter loose, drifted sand.

Take-out: Solis is the common take-out for the canyon. Be careful not to overshoot—it's a long way to the next one.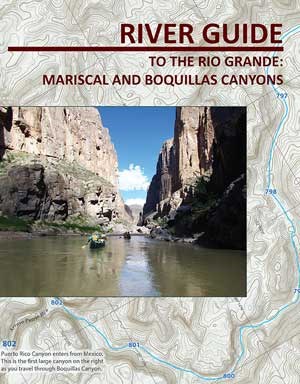 River Guide to Mariscal and Boquillas Canyons
NEW!
Newly revised version of the classic river guide, with updated text and new full-color maps and photos. Includes the "Great Unknown" section of the Rio. 20 8.5"x11" waterproof laminated pages. Coil bound for easy reading during your float trip.
Available through the Big Bend Natural History Association
Note: Theft of property left in vehicles is not uncommon at Talley, Solis, or the Santa Elena Canyon take-out. Remove valuables from vehicle and lock all doors. Storage lockers are not available in the park.


Last updated: June 3, 2022