Floating Hot Springs & San Vicente Canyons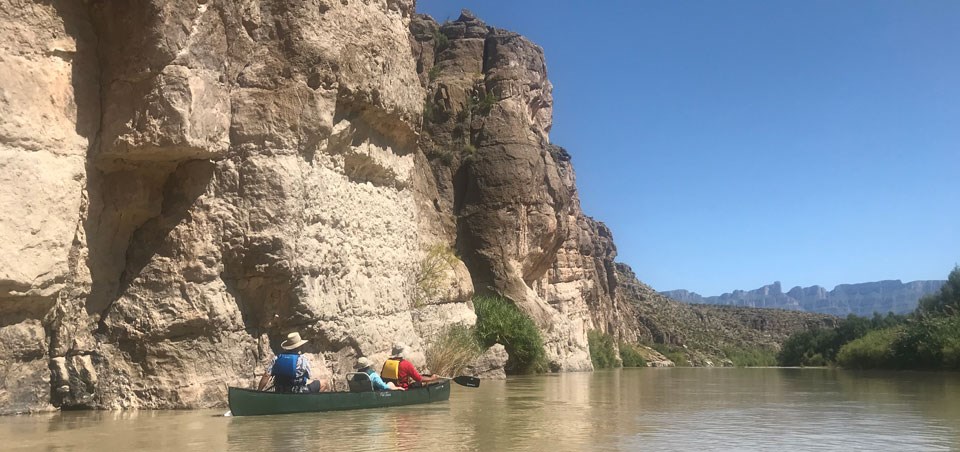 Two small river canyons that are often overlooked and not regularly paddled are San Vicente and Hot Springs. These canyons, and the stretch of river between them, are located between the river access at Solis and Rio Grande Village. Together, they comprise about 20 miles of scenic beauty that usually has few hazards and plenty to see.The put-ins for this section of river are located at various points along the primitive River Road. A rugged high-clearance vehicle is required to access these areas.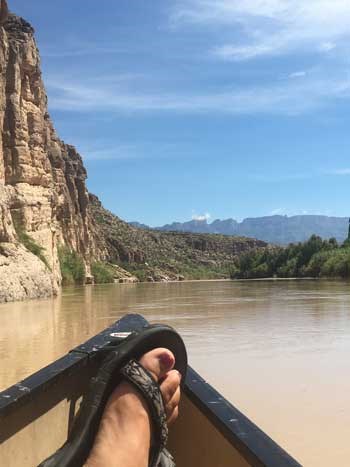 Hot Springs Canyon: A Gentle Day Float
A relaxing 1/2 day float trip through Hot Springs Canyon is a great experience.for all skill levels. Launch at the river put-in near the Gravel Pit campsites along the River Road East (high clearance vehicle required), and float through open desert, past the historic Langford Hot Springs, and through small, but scenic Hot Springs Canyon to the Rio Grande Village take-out. This trip is approximately 5 miles long and gentle at most river levels..

The first couple miles is slow and may require paddling. The last 3 miles past the Hot Springs has a few small riffles and nice canyon scenery. This trip is great for birdwatching, and having a picnic along the way. You will need either two vehicles or arrange a guided trip or shuttle with a local outfitter. There is no overnight camping along this stretch of the river, so day trips only.

This stretch of river is recharged by groundwater springs, which makes it possible to float even when other river sections are too low. With a canoe or small kayak, this stretch is possible down to a flow of 30 CFS.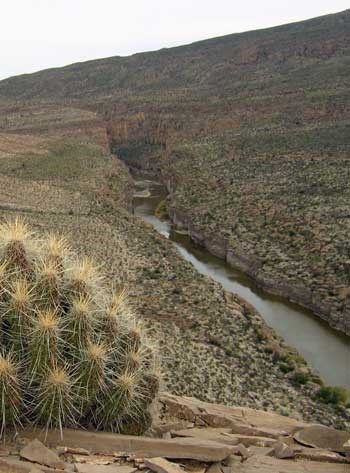 San Vicente Canyon: A leisurely overnight trip
Start this trip from the river access at Solis, approximately 16 miles along the River Road East, and float all the way to the Rio Grande Village takeout for a total float trip of 20 miles (includes Hot Springs Canyon).

Immediately downriver from Solis is the entrance to San Vicente Canyon, a short, but very beautiful and scenic canyon of about 3 miles cut by the river through the north end of San Vicente Mountain.

As you exit the canyon you will see Glenn Springs Draw entering the Rio Grande on river left, an excellent place for a riverside camp. A nice rapid (at higher flows) sits where it enters the river. Between San Vicente and Hot Springs Canyons lies a few miles of open desert, affording a different view than what you see in the canyons, and depicting what lies just beyond the canyon walls all along the Texas-Mexico border. The community of San Vicente, Mexico is situated along this reach where horse ranches across the border can be seen.

Eventually you will pass the La Clocha and Gravel Pit Campsites and enter the stretch for Hot Springs Canyon. The last five miles takes you past the historic Hot Springs and through Hot Springs Canyon to Rio Grande Village.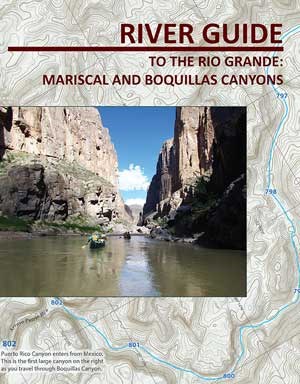 River Guide to Mariscal and Boquillas Canyons
NEW! Newly revised version of the classic river guide, with updated text and new full-color maps and photos. Includes the San Vicente and Hot Springs Canyon section of the Rio. 20 8.5"x11" waterproof laminated pages. Coil bound for easy reading during your float trip.

Available through the Big Bend Natural History Association
Last updated: July 26, 2022