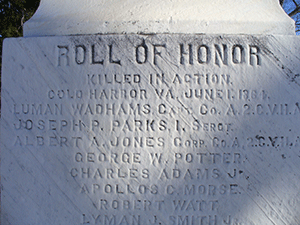 As at all of the battles of the Overland Campaign, the men of the Army of the Potomac and the Army of Northern Virginia experienced staggering losses at Cold Harbor, only miles from their objective at Richmond.
Among the many units that saw the worst of it was the 2nd Connecticut Heavy Artillery from Litchfield, which lost 141 of its more than 1500 men in only a few hours on the afternoon of June 1, 1864. Over the next few days they would lose 200 more. After the war, the people of Litchfield erected a monument to the 2nd Connecticut on the town green and continue to honor the memory of their fallen townsmen today.
From the South, there were several new regiments from South Carolina who served during the battle, including the 20th Infantry, which lost 80 of 900 men, and the 4th, 5th, 6th, and 7th Cavalry, all of which saw their first combat in and around Cold Harbor, and lost heavily.
As part of the National Park Service's nationwide Reverberations program, commemorations at the Cold Harbor Battlefield and in Litchfield and Charleston will reconnect these places and stories.