Reverberations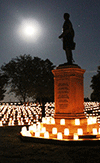 In May 1864 – the fourth year of the Civil War – Lt. Gen. Ulysses S. Grant embarked on a campaign to destroy Gen. Robert E. Lee's Army of Northern Virginia. In a series of battles that devastated Central Virginia that became known as the Overland Campaign, Union soldiers steadily moved south while facing off with Confederate foes at the Wilderness, Spotsylvania Court House, along the North Anna River, and at Cold Harbor, just 10 miles from the Confederate capital. However, mounting casualties – ultimately reaching almost 100,000 in five weeks of action – and intense Confederate opposition forced Grant to change his strategy and focus his attention on Richmond's main supply base: Petersburg.
By telegraph and letter, by railroad and newspapers, word of Virginia's deadly spring reverberated across America. The loss of men in Virginia constituted a deep wound to communities near and far: Bangor, Natchez, Dearborn, Litchfield, Charleston, Wilmington. These places and hundreds more reckoned with the loss of men who would never come home—most of them buried today as unknowns on Virginia's fields.
Each death challenged the fortitude of a family, the fabric of a community, the will of a nation.
On Memorial Day weekend 2014, the National Park Service will join with a few representative communities across America to remember the struggle of those days of 1864. We will remember not just on the battlefields themselves, but in the communities that received the doleful news of that spring. The struggle of everyday Americans against loss, deprivation, and discouragement helped determine that fate of our Nation in 1864. The Reverberations program will once again reconnect American communities to the fields where their sons often gave all, and recognize a great and oft-forgotten struggle touched with both virtue and pain.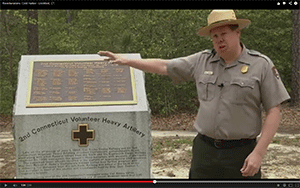 To explore these stories and the commemorative programs conducted by the National Park Service and communities around the country, click on one of the links on the right side of this page.
Last updated: May 16, 2014