Prairies and Grasslands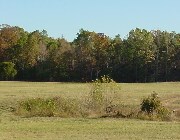 Many acres of Richmond National Battlefield Park are maintained as open grasslands in order to re-create the historic appearence of the battlefield. These fields approximate the condition of the land during the civil war while at the same time providing a habitat type that has become quite uncommon in this part of the country. Wild turkeys, foxes, deer, and many other animals within the park rely on the grasslands for nesting and foraging grounds.
Though many of the park's fields are currently a mix of native and nonnative grass species, future management goals include the promotion of native grasses in many areas. Native grasses such as little bluestem, poverty grass, and purple top help to prevent erosion as well as providing nutrition and habitat for animals. The park's mowing plan prescribes the frequency and height of field maintenance, and precautions are taken to identify and protect nesting sites within mowed areas. Malvern Hill and Gaines' Mill have open fields where visitors can experience the historical significance and natural beauty of the park's grasslands.


Last updated: February 26, 2015