Fish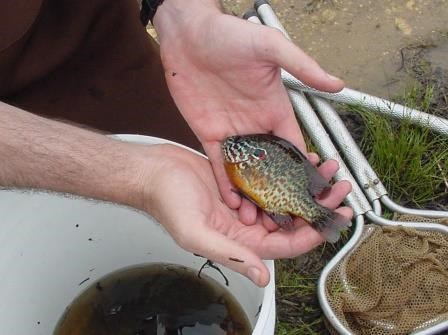 The park's many streams, such as Boatswain Creek, Beaver Dam Creek, Crewes' Channel and Western Run, provide habitat for at least 25 native fish species. Beaver activity and the topography of the land create many ponds and backwater areas along park streams. Their presence, along with the streams, provides a range of aquatic habitats, from swift moving water to shallow marshes.
This variety of habitat is critical for supporting the park's diverse fish populations. Species from the ubiquitous bluegill to the less common sea lamprey can be found in park streams. One particular highlight is the presence of ironcolor shiners (
Notropis chalybaeus
). Although scattered populations of ironcolors exist elsewhere in the coastal plain of Virginia, specimens found within the park represent the only known record of this species from the entire James River Drainage.
Richmond National Battlefield Park strives to maintain the dynamic hydrological processes that created its many riparian habitats to ensure that park waters will remain suitable homes for these native species.


Last updated: March 16, 2016