Phoebe Yates Pember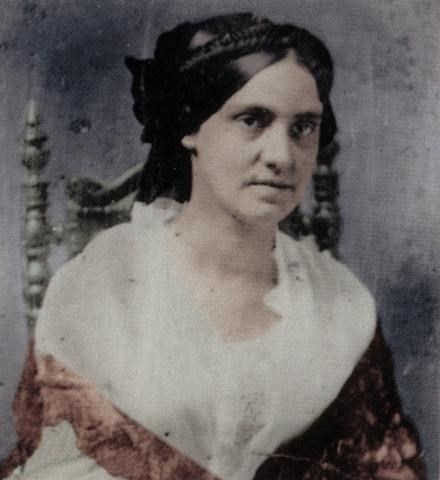 A Memorable Matron
Pheobe Yates Pember is best known for writing a vivid, informative, and sometimes humorous memoir about her employment at Richmond's Chimborazo Hospital during the Civil War. Published in 1879,
A Southern Woman's Story
is a unique narrative of life of the civilian woman in the Confederate capital.
In 1823, Phoebe Yates Pember was born into a prominent Jewish family residing in Charleston, South Carolina. Phoebe was the fourth of seven children. Not much is known about Phoebe's upbringing, but given the success and wealth of her father, Jacob Levy, the family was well-off. In 1856, at the age of 33, Phoebe married a Christian man from Boston named Thomas Pember. Five years later, Thomas fell ill with tuberculosis and died in July of 1861. Now residing in Georgia, Phoebe moved back in with her parents. Phoebe was often unhappy during this time at home due to arguments with her father. When an opportunity arose for Pember to leave Georgia, she took it. That opportunity was in Richmond, Virginia, the capital of the Confederate States, inside a large military hospital complex. If Pember was relieved to have escaped her tense family situation in Georgia, she exchanged one set of troubles for another. Her new role as a hospital "matron" for the next three years anything but easy.
Chimborazo Hospital was one of many hospitals established in Civil War Richmond. The five converging railroads in Richmond and the city's proximity to many of the war's bloodiest battles meant that Richmond became a booming center of medical care. In the Confederate capital alone, there were over 50 hospitals in use at different times throughout the war, but few of them compared to the size and complexity of Chimborazo. The massive hospital contained more than 100 barracks-style "ward" buildings, a bakery that produced up to 10,000 loaves of bread a day, a herds cattle and goats, and even a brewery. In November of 1862, over one year into the Civil War, Pember received an invitation from her friend, Mary Elizabeth Adams Randolph, the wife of Confederate Secretary of War George Randolph, requesting she serve as the chief matron at Chimborazo Hospital. Pember accepted and arrived for duty at the hospital complex one month later. She was the first matron appointed to the vast Chimborazo hospital, and was expected to attend to the dietary needs and comforts of all the men being cared for in Division Two of the hospital (The sprawling hospital complex was divided into five separately managed "divisions" for administration purposes). Although she had no professional medical training, Pember had experience running a large household growing up and had cared for her husband during his sickness. She considered herself well equipped for the job.
Aside from whatever administration complications Pember encountered, another difficulty of her job came with being a woman in a role previously reserved only for men. Her actions were often questioned and undermined. Yet, while she faced criticism from male colleagues, who often did not approve of her presence and authority, she remained firmly convinced that her role was not just acceptable, but absolutely necessary. As the war progressed, casualties multiplied and Pember's duties increased. Massive numbers of incoming wounded soldiers caused shortages of medical supplies, surgeons and their assistants, and hospital beds. Pember became responsible for arranging makeshift beds and continually washing and dressing minor wounds in preparation for the surgeons.During the course of her service, it is believed that roughly 15,000 men came under Phoebe Pember's care at Chimborazo which operated until the end of the Civil War in 1865. Following the war, Pember traveled extensively throughout the United States before passing away of breast cancer on March 4, 1913 while visiting Pittsburgh, Pennsylvania. Phoebe Pember's memoir, detailing her experiences at Chimborazo Hospital, can be read in
A Southern Woman's Story
, available for sale at the park store at Richmond National Battlefield Park and can be viewed and downloaded for free online at
Google Books (A Southern Woman's Story)
and
Project Gutenberg (A Southern Woman's Story)
.
Last updated: September 12, 2021