Battlefield Tour-- Fort Gilmer to Fort Brady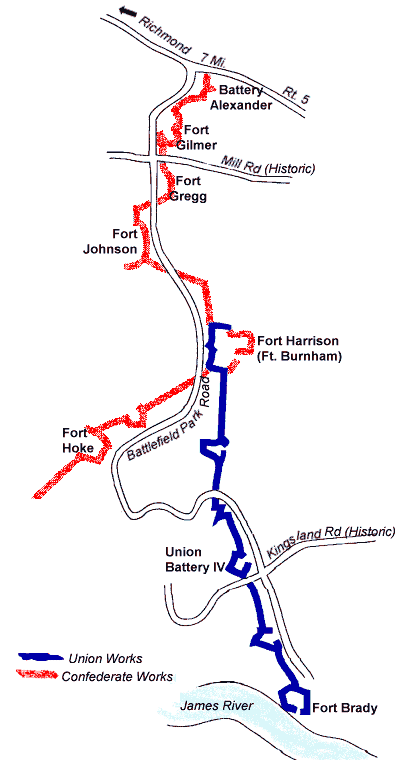 Battery Alexander was built after the September 1864 fighting in order to protect the approaches to Richmond along the nearby New Market Road (modern Route 5). Confederate General E. Porter Alexander designed the line and supervised its construction, and this site bears his name.
During the fighting on September 29, 1864, Fort Gilmer played a prominent role in the repulse of the Federal drive north toward Richmond. African-American soldiers from the 9th United States Colored Troops participated in the attack, but were annihilated by the Virginians and Georgians defending the fort. This fort was named after Jeremy F. Gilmer, one of the leading engineers in the Confederacy.
On September 29, United States Colored Troops attacked Fort Gregg along Mill Road. Later, Union soldiers from Pennsylvania and New York swept forward to the walls of the fort, only to be shredded by the defenders. This fort was named after the commander of the famous Texas Brigade, General John Gregg, who played a key role in the Battle of Chaffin's Farm and later died defending the approaches to Richmond on October 7, 1864.
The Union efforts to break the Confederate line north of Fort Harrison began at Fort Johnson and spread northward to Forts Gregg and Gilmer. Inexperienced troops from Pennsylvania and New York advanced from the east across ground that was open at that time. After suffering appalling casualties, a few men reached the ditch in front of the fort where they were eventually captured. This fort is probably named after Confederate Major General Bushrod R. Johnson of Tennessee.
Fort Harrison, named for Confederate engineer Lieutenant William Harrison, was the only major Confederate fortification captured during the attack. On September 29, 1864, roughly 2,500 Union infantry stormed and captured the fort.
Fort Hoke marks the deepest penetration of the Union attack south of Fort Harrison. Late on September 29, Federal troops captured the fort, only to abandon it shortly afterward while consolidating their position around Fort Harrison. This site became a crucial stronghold in the new Confederate line developed after the battle that connected Fort Hoke to Fort Johnson. It is named for Confederate Major General Robert F. Hoke of North Carolina.
Built along the Kingsland Road, Battery IV is a Union fortification constructed after the battles of September, 1864. It was one of four batteries connecting Fort Harrison (renamed Fort Burnham by that time) with Fort Brady to the south, and was designed for 200 defenders and up to eight guns.
Fort Brady, a well-preserved fortification on the James River, was built by Union engineers after the battles of late September, 1864. It kept Confederate gunboats bottled up to the north, and anchored the Union line that extended to Fort Harrison and beyond. There is a short walking trail inside the fort with signs.
Last updated: January 25, 2018