Kathleen Schneider Named as First Superintendent of Pullman National Monument
Date:
October 3, 2016
Contact:
Alexandra Picavet
, 402-661-1840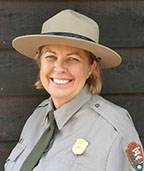 Omaha— Kathleen Schneider, a 13-year veteran of the National Park Service (NPS), has been selected as the first Superintendent of the newly established Pullman National Monument in Chicago, Illinois. Schneider is currently the Jefferson National Expansion Memorial Project Manager for the National Park Service on the $200-million CityArchRiver partnership construction project at the Arch in St. Louis. She begins her new assignment on October 30, 2016.
"We are pleased to welcome Kathy as the Superintendent of Pullman National Monument," stated Regional Director Cam Sholly. "She has been a valuable team member on the complex CityArchRiver project for many years. She has a proven track record of accomplishment along with the leadership skills necessary to build this new park, and guide it into the future."
Schneider has a civil engineering degree from South Dakota State University, a master in public administration from the University of Nebraska-Omaha, and is a registered Professional Engineer.  "I became involved with Pullman National Monument about six months ago when I was asked to manage the new Visitor Center project," Schneider said about her appointment. "I've gotten a taste of the passion and support the Monument enjoys from so many Chicago constituents and I am fascinated by the stories to be told there.  I look forward to meeting and working with all the partners who have worked so hard to create Pullman National Monument.  I couldn't be more excited about this opportunity to play a key role in fully opening this park to visitors and the community."  
Schneider has spent most of her NPS career in the world of partnerships and has developed a reputation for building constituencies and making things happen.
Schneider will relocate to the Chicago area in the coming weeks. She is married to Edward Dodds, the Chief of Maintenance at Jefferson National Expansion Memorial and between them, they have four sons.  In her free time she likes gardening, quilting, scuba diving and riding motorcycles.
Paul Labovitz, superintendent of Indiana Dunes National Lakeshore, has been acting superintendent of Pullman NM since it was established by Presidential proclamation in 2015.
www.nps.gov
The Midwest Region encompasses 61 park areas in 13 states (Nebraska, Kansas, Iowa, Missouri, Minnesota, Wisconsin, Michigan, Illinois, Indiana, Ohio, Arkansas, and North and South Dakota), and has been headquartered in Omaha since the mid-1930s.
Last updated: February 1, 2017