The Royal Grounds & Puʻuhonua
Take a walk back in time to old Hawaiʻi as it was many centuries ago. Kiʻi (carved statues) surround the Hale o Keawe, the former resting area of 23 Keawe line chiefs. The Pā Puʻuhonua (Great Wall), spanning up to 12 feet tall, 18 feet wide and over 950 feet long, will amaze you with its huge rocks fitting together like locking puzzle pieces. Footpaths take you past Hawaiian heiau (temples) and other ancient structures. Puʻuhonua o Hōnaunau has many places visitors can go to experience the Hawaiʻi of yesterday and today.
How to Explore
The best way to explore the Royal Grounds and the Puʻuhonua is to take the half-mile self-guided walking & audio tour.
The Royal Grounds
In the past, aliʻi (chiefs) entered the Royal Grounds from Keoneʻele Cove by canoe. The pū (conch shell) is sounded to warn of their approach. As the canoe makes land fall, other members of the royal court stroll past the royal fishponds, looking for a choice fish for dinner. Other chiefs may engage in a game of kōnane. The beauty, splendor and history of the Royal Grounds are still felt as you walk along the trails once reserved for Hawaiian royalty. Learn more about the Royal Grounds.
Things to see
Royal Ponds - Anchialine (brackish water) pools used to hold fish for the aliʻi. Today, invasive tilapia make circular nests in the sandy bottom.
Kōnane Papamū - A stone papamū (playing surface) for playing kōnane (Hawaiian checkers). Enjoy a game with your ʻohana (family)
Keoneʻele Cove - A protected cove used as a canoe landing for the aliʻi. Today, at times, honu (sea turtles) rest on the shoreline.
The Great Wall - A 400-year-old wall constructed using uhau humu pohaku (dry-set masonry) with no mortar between rocks.
Canoe Hālau - A-frame structures used to store canoes and provide shade for artisans to work.
Kānoa - Bowls carved into rock that may have been used for dying kapa (bark cloth), tanning fishing nets, or pounding ʻawa root to make a ceremonial drink.
The Puʻuhonua
In the time of kapu, a woman eats with a man. A makaʻāinana (commoner) casts his shadow on an aliʻi. Someone catches a fish out of season. Break these or any other kapu, and you face the ultimate punishment of death. Your only chance of survival is to elude your pursuers on foot, make your way to the coast, and swim to the Puʻuhonua. If you make it--and many do not--you may be absolved by a priest. Learn more about the Puʻuhonua.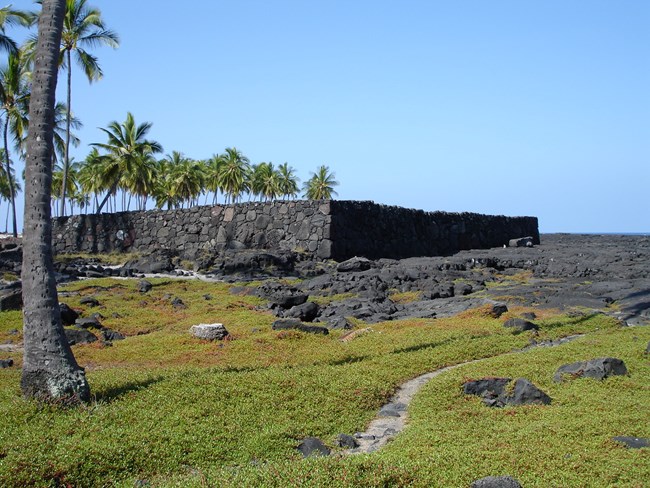 Things to See
Hale o Keawe - A heiau (temple) and royal mausoleum with a variety kiʻi (wooden images).
ʻĀleʻaleʻa - This structure may have been the principal heiau before Hale o Keawe was built.
Keōua Stone - According to local tradition, this was a favorite resting place of Keōua, a high chief
Tide Pools - Walk out on the lava rock to explore tide pools. Be careful, the rock can be extremely slippery.
Ancient Heiau Site - Only remnants remain of this ancient heiau, which is among the oldest structures in the park
Restrictions
The Royal Grounds and Puʻuhonua are important cultural sites and the park strives to maintain the cultural landscape. The area maps show the boundaries of the Pu'uhonua and Royal Grounds and describe the activity restrictions in each area. For more detailed information about park rules and regulations read through the Superintendent's Compendium.

Please help to preserve the Royal Grounds & Puʻuhonua for future generations and be respectful of these sacred sites during your visit. Mahalo (thank you) for your kōkua (help)!


Last updated: June 15, 2021