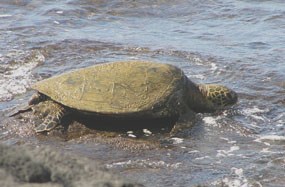 Honu (Hawaiian Green Sea Turtle)
While visiting the Royal Grounds, walk along the shore and examine the rocks. Do any of them move? Most of the rocks are black with angled edges. Do you see any that are round and lighter colored? If yes, then you are probably looking at a honu basking in the sun at low tide, and taking a break from foraging. Honu can also be seen in the water, twisting and flipping with the current, as these ocean vegetarians scrape algae from the rocks.
Of the seven species of sea turtles found in the world, honu are most likely the only indigenous reptiles observed at Pu'uhonua o Hōnaunau National Historical Park. Honu, like other sea turtles were hunted to an endangered status but are now a protected species and are recovering.