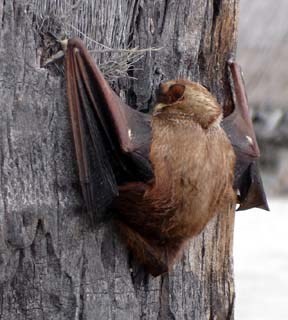 'Ō'pe'ape'a(Hawaiian Hoary Bat)
Just after sunset is the most common time to observe the 'δpe'ape'a. The endangered 'δpe'ape'a is the only land mammal native to Hawai'i. It appears to be a solitary bat that roosts in trees and feeds on insects. The name 'hoary' means ghost-like, and thus named due to the frosted tips of the 'δpe'ape'a fur.Much is unknown about this species but current monitoring in the park by USGS will hopefully provide information about diet, habitats and behavior.
'Ilio-holo-i-ka-uaua(Hawaiian Monk Seal)
'Ilio-holo-i-ka-uaua (monachus schauinslandi), is an endangered marine mammal that is endemic to the warm, clear waters of the Hawaiian Islands. Scientist estimate about 1,000 to 1,200 monk seals live in this archipelagoe today. The species has declined at approximately 4% per year since 1989 and is the most endangered U.S. marine mammal. It is uncommon to spot a monk seal near the shores of Pu'uhonua o Hōnaunau NHP. Any sighting should be reported to a park ranger.