Educational Experiences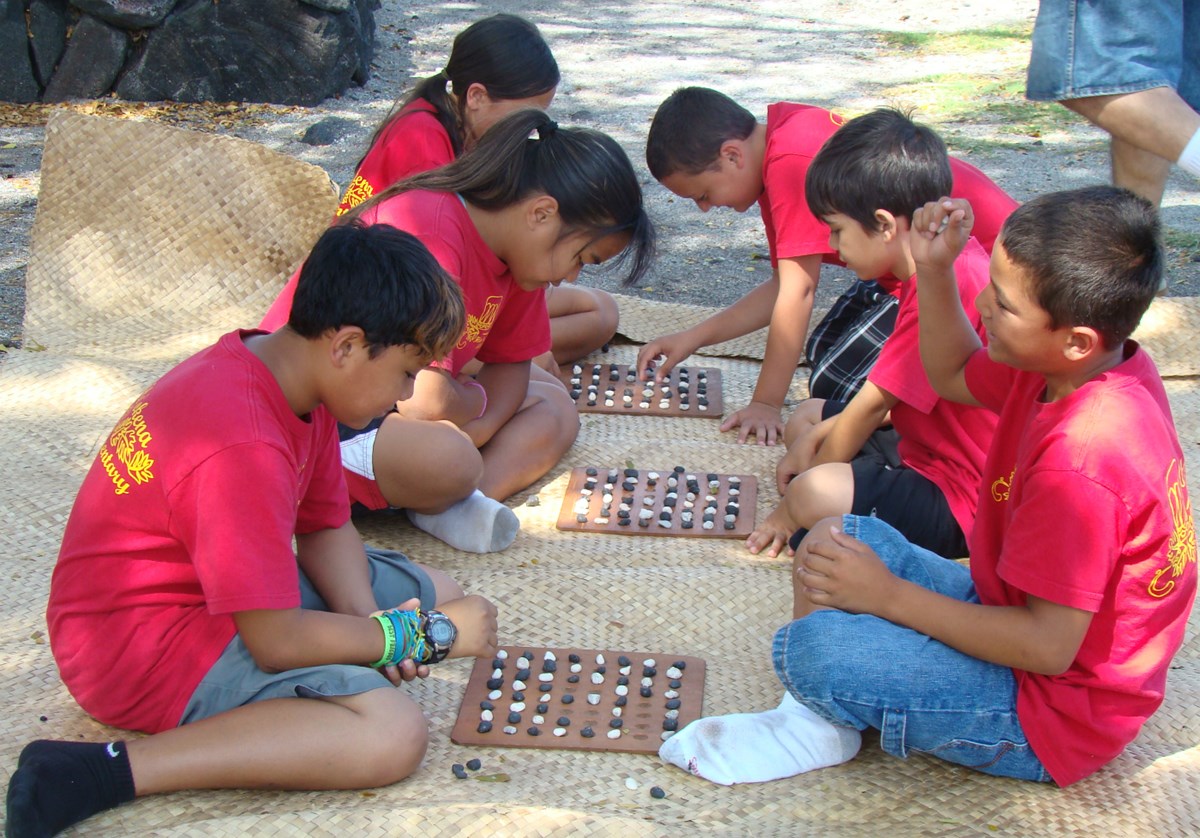 Field Trips
A visit to Pu'uhonua o Hōnaunau National Historical Park can provide students with the opportunity to learn first-hand about Hawaiian history and culture. Your group may be eligible for a educational fee waiver which will allow your students, teachers and chaperones to visit the park for free. To determine if your group is eligible to receive a fee waiver, fill out the educational fee waiver application form. For questions regarding field trips and the educational fee waiver program, please contact us.
Important Field Trip Information
Schedule your visit as early as possible, all required documents must be submitted at least two weeks prior to your visit. Waivers are approved for visits every day of the week.

If your group is scheduled for a ranger orientation, please be on time. A late arrival can cause your scheduled program to be shortened or cancelled, as rangers are often assigned to other duties throughout the day. Scheduled talk times are at 10:30 am, 1:30 pm and 2:30 pm only.

The park retains the right to require payment if a copy of your waiver is not in your vehicle upon entry.

The park retains the right to refuse all on-the-spot requests for educational entrance fee waivers.

The park landscape includes uneven grounds, rock and wooden structures, as well as slippery surfaces near the tide pools. Students are required to obey signs at all times.

The nearest hospital is Kona Community Hospital, about a 20 minute drive from the park.

If you plan to bring and have your lunch in the park, please dispose of trash in trash bins. Please note that food is not allowed in our park amphitheater. The park picnic area is limited to 50 people per group at a first come, first serve basis.
Educational Fee Waivers
School groups may apply for an Educational Fee Waiver to waive entrance fees during the park visit. Please see information below on qualifications and how to apply.
In order to qualify for a waiver, a group must meet all of the following criteria:
Educational and scientific groups must submit proof of official recognition as an accredited institution by a federal, state, or local government entity. Private schools or other scientific institutions may submit documentation of tax exempt status granted for educational purposes. Groups or organizations that have been "officially recognized by a school or scientific institution for the purpose of providing education…" must provide evidence of this official recognition.
The intended trip must relate directly to the educational or scientific purpose of the visit and to the unique features and resources of Puʻuhonua o Hōnaunau. The visit "shall not be primarily for recreation purposes." Submit a written statement listing objectives, itinerary, and how lessons relate to park resources.
Requests from colleges or universities should also include a copy of the course description from the school's course catalog or handbook.
To receive a fee waiver, email the completed Educational Fee Waiver and all required documentation, at least two weeks in advance of your visit. Late requests may not be processed. Requests should be sent via email.

Include the following in your application package:
Educational Fee Waiver Application [PDF, 165 KB]
School Eligibility Document

Current, official documentation of recognition as an educational institution by Federal, State, or local government entity or other evidence attesting to educational status (e.g. accreditation letter, tax exemption status).

Detailed Itinerary & Statement of Educational Purpose

Written statement confirming a direct relationship between the visit purpose and the use of the Park. The visit must be to study some aspect/resource specific to the park. The written statement should include learning objectives, a detailed itinerary, and how the lessons relate to park resources.

Requests from colleges or universities should also include a copy of the course description from the school's course catalog or handbook.
Other than groups traveling as part of a commercial tour, individuals 15 years or under, or individuals 62 years and older possessing a Senior Pass, or permanently disabled persons possessing an Access Pass, are exempt from park entry fees. If an educational fee waiver has not been granted, all others must pay the required entrance fees.

Be sure each vehicle has a copy of the approved fee waiver in its possession at the entrance gate or they will be charged normal entrance fees.

Picnic Area
The picnic area is designed to accommodate small groups with one picnic table per site and one site allowed per group on a first-come, first-served basis. Groups larger than 50 exceed the carrying capacity of the area and impact our resources. They also pose a greater risk to safe and efficient operations in the park, including visitor safety. Bus access to the picnic area is prohibited. Special rules apply to groups that use the picnic area. These rules will be included with the waiver; you are required to become familiar with these regulations prior to your visit.
Last updated: June 20, 2021