John Young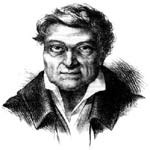 John Young, a boatswain on the British fur trading vessel, Eleanora, was stranded on the Island of Hawaii in 1790.
The three ruling chiefs of Hawaii were at war when the ship sailed into Kealakekua Bay. Armed with a sword and musket, Young went ashore to see the country and to trade for supplies. That evening, as he attempted to return to his ship, the great chief Kamehameha detained him until after the Eleanora had departed.
As an aikane (favorite), Olohana, as he was affectionately called by Kamehameha, was made a Hawaiian chief. Young and Isaac Davis (lone survivor of the ship Fair American) became instrumental in aiding Kamehameha in warfare. They taught Kamehameha's warriors how to use muskets and the cannon. With these powerful new weapons, Kamehameha eventually brought all of the Hawaiian Islands under his rule.
Of all the lands given to Young, he chose a homestead near Pu'ukohola Heiau to raise his family. He built his houses of basalt, the heavy, dark lava rock readily available near his site. Young also had coral blocks brought by canoe from the reef at Puako, dried them, and made a plaster of sand and burnt coral mixed with poi and hair. Even the fences around the animal pens were whitewashed "as in Wales."
Young's Hawaiian wife was known to have maintained a traditional lifestyle, living in a grass house apart from her husband. Ruins of the traditional structure exist near the structure regarded as the remains of Young's house.
Young died in December 1835. Married to a chief's daughter, he had six children, three boys and three girls. The entire family lived in the good graces of Kamehameha. Young's lands, inherited by his granddaughter, Queen Emma, are now part of Pu'ukohola Heiau National Historic Site.
Last updated: February 28, 2015