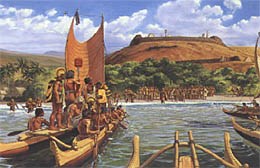 Historical Overview
Long before the time of King Kamehameha I, a socio-political hierarchy, deeply rooted in spiritual beliefs developed in Hawai'i. This rigidly ordered class system gave power to a small number of ali'i nui (high chiefs) who controlled different parts of an island, a whole island, or several islands. Alliances through bloodlines and marriage further complicated and enhanced the relationships among rival chiefs.
To maintain law and order, a kapu (taboo) system based on religious and practical beliefs was imposed by the sovereign ali'i on all of the population. The kapu system was extremely restrictive and rigid, with severe, penalties for those who broke a kapu. The kapu system was in effect for many centuries before it was officially overthrown in 1819, after the death of Kamehameha.
Within this social and religious structure, the political rise of Kamehameha I and the construction of Pu'ukohola Heiau occurred around 1790. Heiau (temples) took on many forms from simple stone markers such as those used as fishing shrines, to massive stone platforms associated with human sacrificial temples. Large heiau such as Pu'ukohola could only be accessed by the priests and chiefly classes.
One explanation for Kamehameha's rise to power is based on the fulfillment of four prophecies that different kahuna (priests) decreed would change the course of history in Hawai'i. Each prophecy was directly related to Kamehameha either through his birth or his deeds.
A different explanation for his rise to power is based on the political conflict on Hawai'i in the 1780s. It focuses on his uncles as the force pushing Kamehameha I to the forefront in order to protect their own interests.
In the 1780s, the Hawaiian Islands were in civil unrest as warring chiefs fought for control. The island of Hawai'i had its own internal struggle when one of the ali'i nui Kalani'opu'u, died. He passed his title to his son Kiwala'o and named his nephew, Kamehameha, keeper of the family war god, Kuka'ilimoku. Kiwala'o, the new ali'i then bestowed gift lands to his uncle Keawemauhili, but left his own half-brother, Keoua Ku'ahu'ula, with nothing.
Meanwhile, Kamehameha felt he should have of a greater political role. Kiwala'o was killed in battle, setting off a power struggle between Keoua, Keawemauhili, and Kamehameha.
Kapoukahi, a powerful kahuna from Kauaii, prophesized that war would end if Kamehameha constructed a heiau dedicated to the war god Ku at Pu'ukohola. In 1791, Keoua, Kamehameha's cousin, was slain at Pu'ukohola, an event that according to prophesy, led to the conquest and consolidation of the islands under the rule of Kamehameha I.
The end of the 1700s was marked by increased visits to the Hawaiian Islands by European explorers. With their trade ships, warships, cannon, and military experience, the foreigners were considered assets by the warring chiefs.