For Teachers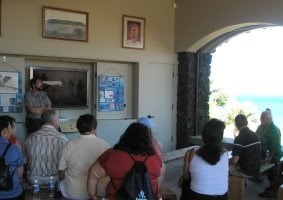 "Just to think Kamehameha was walking on the same path we were walking on was amazing!"
Tyler (4th grade student after field trip to Pu'ukohola Heiau)
Attention Teachers!
Every year, Pu'ukohola Heiau National Historic Site provides curriculum-based educational programs for school groups of all ages and class sizes. If you would like more information on the educational programs that the Park provides or if you would like to schedule a program, please contact the Visitor Center at (808) 882-7218 Ext. 1011 or by email.
Important Field Trip Information
Schedule your group as early as possible.
(The busiest time of year is April & May)
Download, fill out, and email the Fee Waiver Form to our email address. Make sure you plan enough time for your students to benefit from your visit to the Park. 45-60 minutes is ideal, though 30 minutes is adequate for smaller groups. (Note: No tours will be given from 12:00pm-12:30pm)
If your group is running late on the day of your program, please contact the Park as soon as possible. Although Park staff will do everything possible to accommodate changes in times, groups arriving late cannot be guaranteed a guided program.
Spencer County Beach Park is adjacent to Pu'ukohola Heiau NHS and provides picnic tables and a pavilion for groups wishing to stop for a break, lunch, etc.
If you are interested in a service project during your visit, please let Park staff know when you schedule your group.


Last updated: April 27, 2023