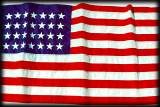 During the 1850's, the Army Corps of Engineers built Fort Point—a four-tiered brick and granite fort designed to hold 126 cannon—at the mouth of the bay. In 1861, the outbreak of the Civil War reemphasized the economic and military significance of California and, one year later, the first major expansion at the Presidio since its acquisition by the United States began. Following the Civil War, Presidio soldiers fought the Modoc Indians in the Lava Beds of northern California and the Apache Indians in the southwest during the Indian Wars of the 1870's and 1880's. Also in the 1880's, a large-scale tree planting and post beautification program was initiated. By the 1890's, the Presidio had evolved from a modest frontier outpost to a major military installation and a base for American expansion into the Pacific.
Beginning in the 1890's, U.S. Cavalry stationed at the Presidio patrolled three newly-created National Parks in the Sierra Nevada Mountains of California—Sequoia, General Grant and Yosemite—before the creation of the National Park Service in 1916. During the 1898 Spanish-American War and the subsequent Philippine-American War, thousands of troops camped on the Presidio while awaiting deployment to the Philippines—including all four African-American "Buffalo Soldier" regiments. Upon their return to the United States, many sick and wounded soldiers were treated in the Army's first permanent general hospital, Presidio (later Letterman) Hospital.
By 1905, twelve reinforced-concrete artillery batteries were built along the San Francisco headlands to supplement bay defenses. Presidio coast artillery units were stationed at Fort Scott, while cavalry and infantry troops were garrisoned on the Main Post.