The Barracks
The barracks
in which the
9th Cavalry soldiers
lived during their stay in 1903-04 is unknown. The best clue we have as to where the lived comes from the following letter written by Colonel Nobel in May 1904, explaining why the troops rotating through the Infantry
Cantonment
had such a high desertion rate.
"Contributing were the poor accommodations and deplorable surroundings. The men could see the Artillery and the 9th Cavalry troops over at the Presidio's main post with their good barracks, reading room, gymnasium, and so forth. The contrast with the cantonment's humble barracks caused discontent."
- From Erwin N. Thompson, Defender of the Gate: The Presidio of San Francisco, A History from 1846 to 1995, (Golden Gate National Recreation Area, California, National Park Service, 1995).
Based on this letter, it appears the 9th Cavalry men lived on the Main Post in either the brick barracks along Montgomery Street (shown above), which were new and very near the gymnasium, or in the older Civil War-Era wood barracks known as the Cavalry Barracks (shown below) at that time. These buildings are all located close to where the horses were stabled just below the Main Post on the edge of Crissy Field today.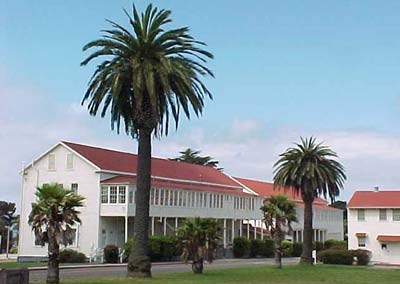 Last updated: February 28, 2015