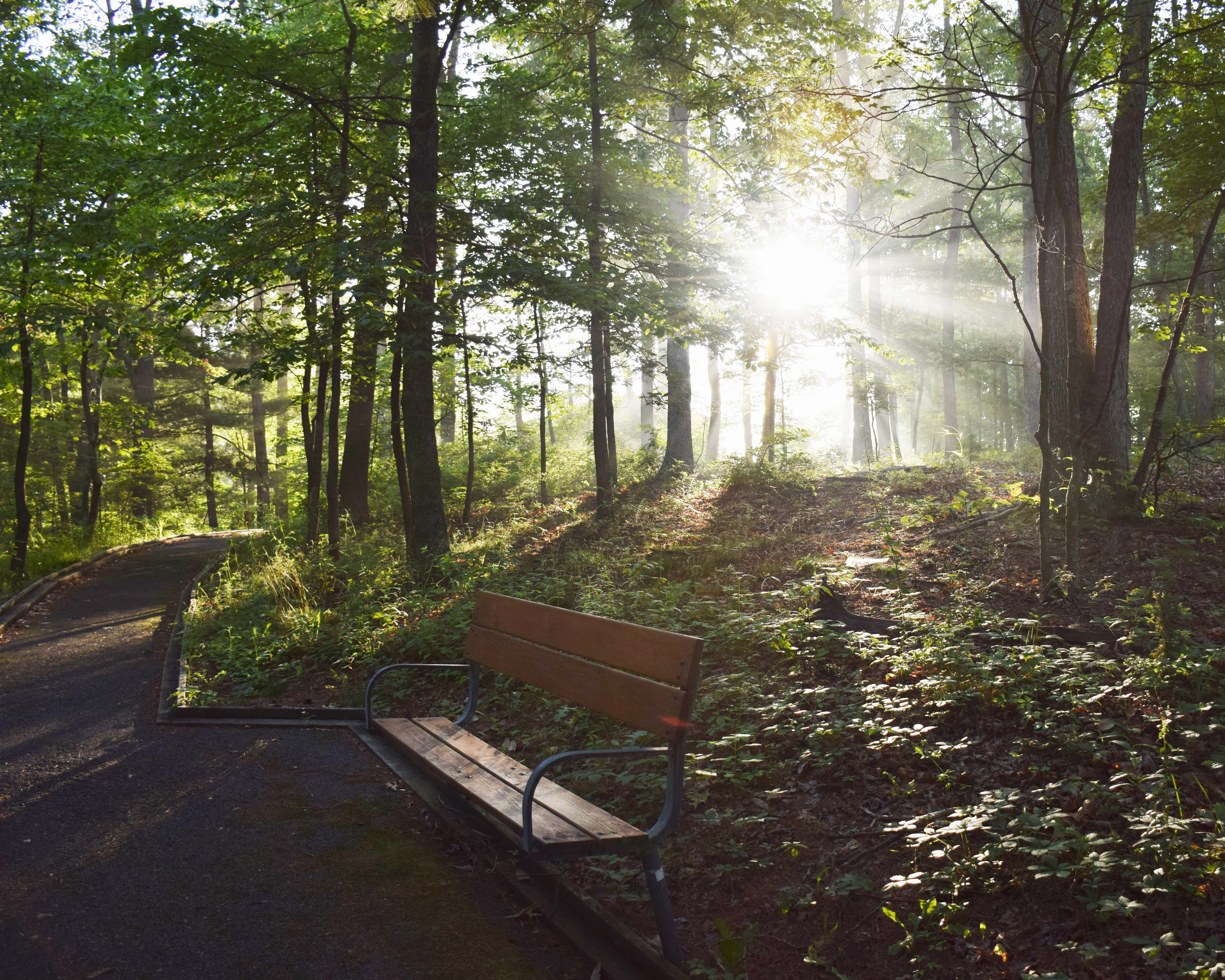 Hiking opportunities are extensive throughout the PHT network and one of the best ways to experience the beauty, history and culture of the various regions. A
digital edition of

Potomac Heritage Trail: A Hiker's Guide
, based on a booklet developed with assistance from the
American Hiking Society
,
includes descriptions of places and practical information to help plan day trips, overnight hikes and, for those with more time, the length of the PHT network. Please
contact us

if you've completed a through-hike or all sections (e.g., travel between Point Lookout, Maryland. or Smith Point, Virginia, and Seward, Pennsylvania)--others would like to learn from you.
Quick Hiking Links:
A Hiker's Guide to the Potomac Heritage Trail
The Potomac Heritage National Scenic Trail (PHT) is an evolving network, encompassing the history of the Nation from before its birth to the present. The Potomac River provides a thread through much of the PHT corridor, with segments in the upper Youghiogheny River basin completing the journey. Just as early Americans saw the PHT corridor as a passage connecting the Chesapeake Bay with lands beyond the Alleghenes, today we use some of the same routes as pathways to discovery.

Depending on your interests, the PHT network can reveal the stories of American conservation milestones, industrial history, natural history, the Nation's outdoor-recreation heritage, military history and more. You don't have to cover every inch of the network to experience its richness. But you can, by using this guide.
Trail Description
Trails in the Maryland/D.C./Pennsylvania segments of the Trail corridor make it possible to hike 350 miles from Washington, D.C., to Seward, Pennsylvania, all on trails and sidewalks. South of Washington, D.C., there are many places that offer superb hiking, with more opportunities on the horizon.
On the Virginia side of the Potomac River, local PHT advocates are bringing into focus a continuous footpath between Locust Shade Park in southern Prince William County and White's Ferry near Leesburg, Virginia, in Loudoun County - a distance of about a hundred miles. Hikers will be able to cross the Potomac on the ferry and either continue north on the C&O Canal Towpath or head south toward Georgetown to complete a loop.
South of Prince William County, in the area of Fredericksburg and Virginia's historic Northern Neck, hiking opportunities in the PHT corridor are plentiful. To complement such adventures, guides for bicycling and paddling routes entice further exploration of the Potomac and its streams and landscapes.
This guide will deliver you to some of the best places to experience the Potomac region on foot--even if you travel rom one hike to the next by antoher modee. Land purchases along the river by local, regional state and federal agencies and by private organizations are adding miles of hiking opportunities. Even now, the corridor offers a scenic and relaxed roadside walk.
The route begins at Point Lookout State Park. In Washington, D.C., the path follows a route connecting the Fort Circle Parks, which also provides interludes in Rock Creek and Glover Archbold parks. Woven together, these trails create a world-class urban hiking experience.
Upstream from Georgetown in the District of Columbia, the towpath within the Chesapeake and Ohio Canal National Historical Park--the geographical spine of the PHT--stretches 184.5 miles west through the Piedmont, Blue Ridge and Ridge and Valley provinces to Cumberland, Maryland. From here, the Great Allegheny Passage takes us to the town of Frostburg, then into Pennsylvania and over Big Savage Mountain, through the town of Meyersdale and on to the town of Confluence and the Youghiogheny River. The Youghiogheny River Trail South (YRTS) connects with Ohiopyle State Park and the terminus of the 70-mile Laurel Highlands Hiking Trail, which follows Laurel Ridge northeast to the town of Seward near the Conemaugh Gorge. One can also continue northwest from Ohiopyle on the Great Allegheny Passage into Pittsburgh.
Seven Trail Routes East/North of the Potomac River
This online guidebook is divided into seven regional sections. Each section is divided into "hikes." We call them hikes whether they follow trails, sidewalks or roads.
There is also a section that lists additional resources and some ideas for further reading. Here is what you will find in each section:
Description
Each section is introduced with an overview of the route and the experience of following it, including a sketch of the surrounding terrain, proximity to water, whether you will follow road or trail, and some explanation of the landscape.
Hikes
Each hike chapter has parts to help you prepare, navigate and enjoy the journey.
Hike number. In all, there are 60 hikes covering the distance from Point Lookout to Seward. They range in length from several miles to more than 20. Remember, dividing them into hikes is just a convenient way to divide the book. You can find a short hike within even the longest ones in the guide.
The trail you're on. This guide describes existing trails — designated and proposed segments of the PHT network — as well as routes within corridors where trails are planned. In other places, it's less a trail than a collection of experiences. Each trail is managed individually (by federal, state, city or private enterprises). Many segments also have a group of concerned and active people who have helped establish the trail and who now help care for it; they all would welcome your support.
Start and end point. Each start and end point is located where one may find automobile parking or access by public transportation.
About the journey. A paragraph or two describes what to expect and a few special sites to visit.
Trip planner. The planner offers the information you need to pick and plan a hike. It includes the length of the hike in miles, cultural sites, parks and resource areas intersected, significant natural history features, trail intersections, parking areas, locations for water and sanitary facilities, camping opportunities on or near the trail in this section, and a few notes on lodging and dining.
Hike data. This is a brief table that lists milestones of the section, focusing primarily on navigational information.
Explore the Potomac Heritage Trail. Following the hike data are notes on a few of the interesting sites along the way.
Resources. At the end of each of the seven sections, you will find a listing of organizations and agencies that may be able to provide additional information to plan your trip (e.g., visitor bureaus, park offices, etc.).
Trail and Outdoor Contacts. This provides contact information on a wider range of resources than are listed in each section of the guide. It includes land trusts that are active in the corridor, hiking clubs, outdoor education groups, and other people who, either directly or indirectly, enable us all to enjoy the heritage of the trail corridor.
Books & Maps about Potomac Heritage. This is a grab-bag of books, periodicals and Web sites. Some of them are gateways to more experiences and some of them offer deep exploration into the history, ecology and culture of the Potomac.
About the Authors
David Lillard writes travel and outdoor books, and develops interpretive media for parks, trails and heritage areas. His books include Appalachian Trail Names: Origins of Place Names Along the A.T., and Journey Through Hallowed Ground: A Travel Guide. He has been involved in the Potomac Heritage Trail as a volunteer and consultant since 1997, and is a former president of American Hiking Society.
Ed Talone has hiked extensively in the U.S. and Canada, logging over 40,000 miles. His journeys have included end to end walks of all eight National Scenic Trails, and a coast to coast hike in 1999. He works for American Hiking Society as the Trails Information Specialist and writes often for their magazine, American Hiker.