DC Oxon Hill to Fort DeRussy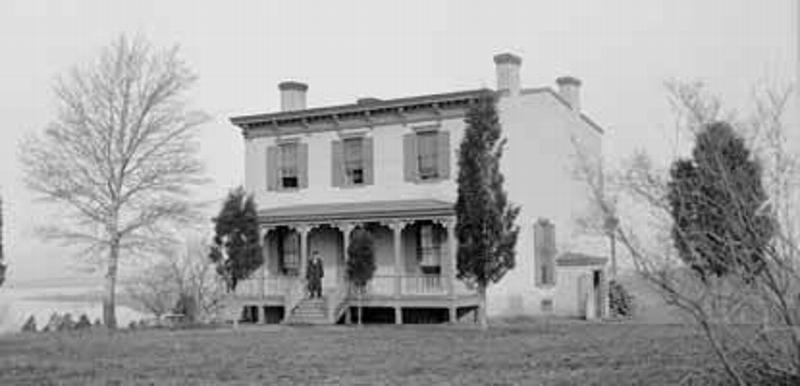 The hike begins at the Oxon Hill Farm, an historic farm at the mouth of Oxon Creek which most motorists on I-295 know only as a curious green space outside their windows just before the Capital Beltway junction. They should get out of the car and check it out! Oxon Cove Park originally was conceived of as a transition zone between urban Washington and rural Prince Georges County. Today it softens the transition into suburbia as it recreates an early 20th century farmstead.
Heading northeast from Oxon Hill, the route follows sidewalks to Fort Stanton Park, where it hooks up with the Fort Circle Trail. Plans indicate opportunities to move much of the route away from roads.
For a truly memorable introduction to the Fort Circle hikes, consider one of the guided hikes offered by Washington Parks and People, a nonprofit group that organizes volunteers and events and advocates "green infrastructure" for Washington, D.C. Their twice annual hikes cover the Fort Circle over a weekend. There is plenty of rest time and story telling built into the program, along with the all-important café stops at local eateries or watering holes. Contact information for Washington Parks and People appears in the Resources section.
The distance covered in this hike can be divided into two leisurely day hikes that stay primarily on natural surface trails and bypass the mid section, which is entirely on roadways. The first of these easy hikes starts at Frederick Douglas National Historic Site and goes to the Minnesota Avenue Metro station. From the Frederick Douglas Home, turn right on W Street and walk two blocks. Turn left on 16th Street and walk three blocks to Good Hope Road. Turn right and follow Good Hope 0.3 mile; pass Goodwill Way on the right. Just beyond, look for the trail entering the woods on the left across Good Hope. Cross the street and follow the directions below from mile 5.3.
A second hike on this section follows the route described below beginning at Fort Totten Metro station, mile 15.4, and continues to Fort DeRussy or another point of your choosing.
A note about the route description that follows: Many people find it easier to navigate urban parks using street names for primary navigation. That technique is applied here. For the most part, finding your way along the adjacent trails is as easy as finding your way along the street. The exception for this hike is the stretch between Good Hope Road and Benning Road, where detailed trail descriptions are provided — you can follow the streets or the trails.
Trip Planner
Start: Oxon Hill Farm
End: Fort DeRussy in Rock Creek Park
Miles: 19.4
Points of Interest: Oxon Hill Manor, Fort Dupont Park, Fort Slocum, Fort Stevens, Fort DeRussy
Parking: Oxon Hill and at each fort
Water, restrooms: Primarily public restaurants
Provisions: Various
Camping: None
Hike Data
| | |
| --- | --- |
| Mile | Navigation |
| 0 | Oxon Hill Farm Historical Site. |
| 0.5 | Bald Eagle Dr. (Oxon Hill Farm, NPS). |
| 0.6 | Turn left on Indian Head Hwy (Route 210) |
| 1.5 | Junction with Livingston Rd. Continue north on South Capital St. |
| 1.6 | Enter Washington, DC. |
| 1.8 | Turn left on Galveston St. |
| 2.1 | Turn right on Martin L. King Jr. Ave. |
| 2.2 | Turn left on Chesapeake Street. Fort Breble is left one block. |
| 2.3 | Turn right on Second Street. |
| 2.5 | Turn right on Atlantic Street. |
| 2.6 | Turn left on Mississippi Ave. |
| 4.1 | Turn left on Stanton Rd. |
| 4.6 | Cross Suitland Parkway, turn right at fork. |
| 4.7 | Turn right on Gainesville. |
| 4.8 | Turn left on 16th St. |
| 4.9 | Turn right on Erie St. |
| 5.0 | Fort Stanton Park. Follow trail northeast. |
| 5.3 | Cross Good Hope Rd.; enter Fort Davis Park. |
| 5.4 | Cross Naylor Road into Fort Davis Park, following trail. |
| 5.6 | Turn left on 28th Street. |
| 5.7 | Turn right to enter woods. |
| 6.1 | Turn left on Park Drive for about 100 yards, then turn right to cross Branch Avenue and enter woods into Stanton Park. |
| 6.5 | Cross Pennsylvania Avenue, then turn left to cross Fort Davis Drive and enter woods on the path that travels between 38th Street and Fort Davis Drive. |
| 6.9 | Cross Fort Davis Drive. |
| 7.0 | Cross Massachusetts Ave.; enter Fort Dupont Park. |
| 7.4 | Cross stream on footbridge. |
| 7.5 | Stay left at junction. The trail circles a ravine providing a dramatic landscape. |
| 7.8 | Turn left at junction and continue to circle the ravine. |
| 8.2 | Pass through rhododendrons and azaleas. |
| 8.4 | Cross Fort Davis Drive. |
| 8.9 | Cross C Street and enter Fort Chapin Park. |
| 9.1 | Stay right at fork, then right at the street. Cross East Capitol St. and follow path. |
| 9.2 | Turn left on Benning Rd. If you're hiking to the Minnesota Avenue Metro stop, cross Benning Road and follow the trail to the right. Circle Fort Mahon, then follow 42nd Street to Lady Bird Park. Metro is one block left on Hayes. |
| 9.4 | Cross Anacostia River. |
| 10.5 | Turn right on Bladensburg Rd. |
| 12.7 | Turn left on Eastern Avenue at Fort Lincoln. |
| 13.9 | Turn left on Varnum. |
| 14.0 | Turn right on Gallatin St. |
| 15.1 | Turn right on South Dakota St. |
| 15.2 | Turn left on Galloway. |
| 15.4 | Cross under railroad tracks into Fort Totten Park on 1st Place. Follow 1st Place to Riggs Rd. |
| 15.6 | Turn left on Riggs Rd. |
| 15.7 | Turn left on 1st Place. Trials are planned along greenway. |
| 15.9 | Turn left on McDonald Place. |
| 16.1 | Turn right on Blair Road. |
| 16.2 | At Oglethorpe (on right), turn left and cross through park. |
| 16.3 | Cross Kansas Avenue in Fort Slocum Park. Follow footpath northwest through park toward Oglethorpe St. |
| 16.5 | Turn left on Oglethorpe St. |
| 17.0 | Turn right on 7th St. |
| 17.1 | Turn left on Quackenbos St. |
| 17.4 | Cross Georgia Ave. |
| 17.5 | Fort Stevens Park. Pass through to west side of park. |
| 17.6 | Follow Fort Stevens Road. |
| 17.9 | Turn right on 16th St. |
| 18.0 | Turn left on Joyce Road at intersection with Rittenhouse St. |
| 18.4 | Cross Military Rd. |
| 18.8 | Junction with Valley Trail. Cross Rock Creek. |
| 18.9 | Turn right onto Fort DeRussy Trail. |
| 19.1 | Fort DeRussy. Continue on path to Oregon Avenue |
| 19.4 | Oregon Avenue, parking. |
Explore the PHT
Oxon Cove Park
The main attraction at Oxon Cove Park is Oxon Hill Farm. This working farm interprets farm life in the early 20th century. Originally founded as a working farm for the patients of the former St. Elizabeth's hospital, the farm's barns, stable, outbuildings and farmhouse are now open to the public. Exhibits in the visitors barn display farming techniques and principles; educational programs cover such topics as animal husbandry and cropping methods.
Fort Dupont
This 376-acre park is one of the largest in the city. The fort had six sides, each 100 feet long, and was surrounded by a deep mote. It was named for Flag Officer Samuel F. du Pont, who commanded the naval victory at Port Royal, South Carolina, in November 1861. The only traces of the fort today are the earthworks that can be traced near the picnic area. Civil War history and environmental education programs are included in the varied activities presented at Fort Dupont. East of the activity center the land rises to a ridge, where a bronze plaque on a boulder just off Alabama Avenue marks the site of Fort Dupont as "one of the defenses begun in the fall of 1861." More than 100 years ago, in the Civil War, the siege guns of Fort Dupont guarded the Eleventh Street bridge over the Anacostia River near the Washington Navy Yard. Although the troops here never saw battle, Fort Dupont welcomed runaway slaves who found safety here. The National Capital Planning Commission acquired the old fort and surrounding land for recreation in the 1930s. An activity center offers programs and restrooms.
Fort Slocum
Fort Slocum was built by the 2nd Rhode Island Infantry and named for its commander, Colonel John S. Slocum, who was killed at the First Battle of Bull Run. Today it is a peaceful, wooded park. It's a terrific spot for a rest stop on the PHT. Fort Slocum had 25 guns and mortars and commanded the intersection of the left and right forks of Rock Creek Church Road (near today's New Hampshire Avenue and McDonald Place). The field gun battery and rifle-pits are badly eroded, but remain visible in Fort Slocum Park, bounded by Kansas Avenue, Blair Road, and Milmarson Place, NE.
Fort Stevens
General Jubil Early attacked Fort Stevens July 11-12, 1864, marking two unique moments in history. It was the only attack directly on Washington, D.C. during the Civil War. With support from Forts DeRussy and Slocum and from reinforcements rushed to the scene, the attack was repulsed. The battle is the only one in which an American president was present while in office. The President and Mrs. Lincoln came out from the city to observe the battle. The fort is partially restored, making it possible to visualize the way it looked in the 1860s. There are no visitor facilities available, but there are plenty of eateries on nearby Georgia Avenue.
Fort DeRussy
Fort DeRussy was built on a hill to provide cross fire on the approaches to Fort Stevens on the 7th Street Pike (now Georgia Avenue) and to control the countryside to west of today's Rock Creek Park. It supported Fort Stevens in only battle fought in Washington, D.C. during the Civil War, July 11-12, 1864. It was built in 1861 by the 4th New York Heavy Artillery and named after its commander, Colonel Gustavus A. DeRussy. It is relatively well-preserved. The parapet's earthworks still display the openings where guns were mounted. The moat around the parapet is still evident, and rifle trenches outside the parapet can be seen.
Last updated: July 6, 2017