Virginia's Tidewater Potomac Conservation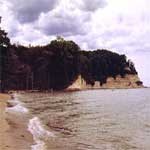 Two things have spurred conservation action in Virginia's Lower Potomac: historical significance and a desire to protect the most distinctive natural areas.
Within a few short miles of each other are the birthplaces of George Washington, Robert E. Lee and James Monroe, fifth U.S. president. They are three very different settings. Stratford Hall Plantation, where Lee was born, is one of the great surviving plantation houses of Colonial America, built in the 1730s by Thomas Lee. Two of his sons, Richard Henry and Francis Lightfoot, were signers of the Declaration of Independence. Washington's birthplace on Pope's Creek was modest by the standards of Stratford. And while the plantation and county bustled with activity when Washington was born in 1732, the birthplace setting in a quiet cove captures a another mood. You can sense the utter isolation of Potomac life at the time of John Washington's arrival in Westmoreland County, in 1657. Only the foundation remains of the home at Monroe's birthplace, but visitors can enjoy the natural beauty of the area. Upriver in Stafford County, up a tributary called Aquia Creek, is Government Island. Aquia sandstone was used to build the U.S. Capitol and White House, facts that have led to the conservation of the 17-acre island as parkland.
Although there is not an abundance of publicly accessible natural areas in Virginia's Lower Potomac, the areas that have been conserved attempt to protect endangered and threatened species or areas important to wildlife migration. Caledon Natural Area in King George County is an important bald eagle nesting site; Dameron Marsh and Hughlett's Point natural areas preserve such bayside habitats and natural communities as high salt marsh and bayside pine-hardwood forest. Dameron Marsh is one of the most significant marshes in the bay for shorebirds and marsh-nesting birds, as well as supporting a population of northeastern beach tiger beetle. Natural areas on the Rappahannock River are Voorhees Nature Preserve and the Rappahannock River National Wildlife Refuge.
Last updated: April 10, 2015