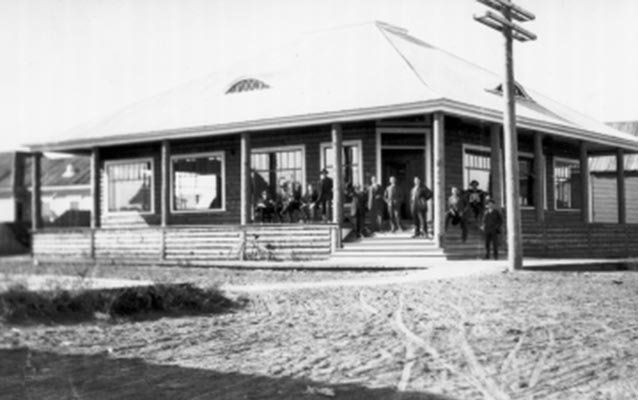 Quick Facts
Location:

Fairbanks, Alaska

Significance:

George C. Thomas Memorial Library was the site of a 1915 meeting between U.S. Government officials and Native Alaskans to settle land and compensation claims.

Designation:

National Historic Landmark designated on June 2, 1978

OPEN TO PUBLIC:

Yes

MANAGED BY:
The George C. Thomas Memorial Library in the City of Fairbanks was selected in 1915 for the unprecedented meeting between six Tanana chiefs and United States Government official to discuss native claims to the land and the needs concerning work and education. The meeting while unprecedented did not resolve issues and concerns pertaining to Alaska Native land claims. Those concerns would not be resolved until the passage of the Alaska Native Claims Settlement Act of 1971.

Constructed in 1909, the George C. Thomas Memorial Library served as Fairbanks' only public library for 68 years. Names for a man who had never been to Fairbanks, Thomas was a Philadelphia banker whose original idea was to build a smoking room to help enhance the reading experience for prospectors of the far north. His donation of $7,000 financed the construction of the library and a smoking room. The one-story log building was constructed in a bungalow form with sawn D-logs, a hip roof and punctuated eyebrow dormers.
 
Additional Information
Library of Congress, Historic American Buildings Survey - Photos and Drawings
How Athabascan Leaders Crafted the Tanana Chiefs Conference, Fairbanks Daily News-miner, 2015