Place
The Roosevelt Home Garden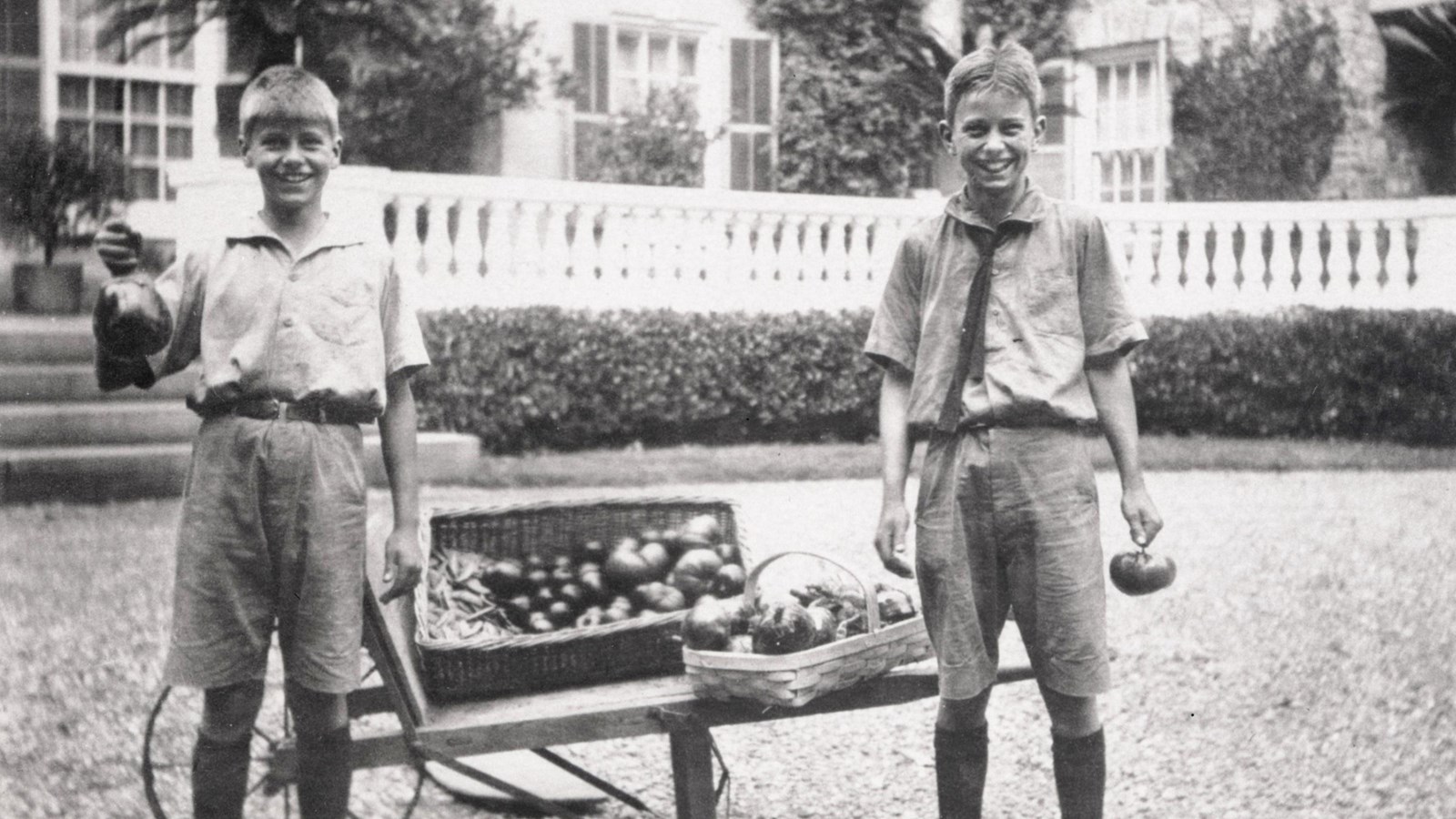 Significance:
Home of Franklin D. Roosevelt, 32nd President of the United States
Designation:
National Historic Site
The Home Garden, nearly two acres in size, was a central part of life for the Roosevelt family. FDR grew up playing in the garden and savoring its bounty. His children and grandchildren helped work the garden, pulling weeds and harvesting its fruits and vegetables. FDR's memories of the garden helped shape his values and sense of identity.
Large home gardens like the Roosevelt's garden were typical features of the diverse, self-sustaining Hudson River estate farms. These farms grew a variety of crops in gardens, fields and orchards and maintained livestock like chickens, hogs and cattle to provide meat as well as eggs and dairy products for the table.
When the Roosevelts originally bought this property, the vegetable garden occupied a small bed in the present-day rose garden and gravesite. Although they were only a family of three, the garden expanded continuously throughout their time at Springwood, even after FDR's departure for school and James Roosevelt's death in 1900.
The Home Garden was an integral part of Roosevelt family life. Frequently mentioned in letters between the Roosevelts, it was clearly important not only as a source of food, but as a part of their home—a part they made an effort to enjoy no matter where they were staying. When the Roosevelts weren't living at Springwood, they would have produce shipped from their garden to wherever they were—to their property in Campobello, to New York, and to FDR at school in Massachusetts.
The current vegetable garden is designed to replicate the Roosevelts' garden with as much historic accuracy as possible. Minor adjustments are introduced to ensure its health and accessibility, including deer fencing around its perimeter and porous pavement paths. In addition, although the heirloom vegetable varieties grown in the garden today remain the same as during the Roosevelts' time, they are cultivated using modern organic practices. Bug traps, black biodegradable film, white row cover, and kaolin clay are all examples of these modern strategies used in combat typical garden pests.
The Home Garden is maintained through the support of volunteers who help plant, maintain, and harvest the crops. Produce is donated by the park's philanthropic partner, the Franklin D. Roosevelt Hyde Park Foundation, to Dutchess Outreach in the city of Poughkeepsie. In addition to being a food resource, this garden is used for a variety of educational programs, and is free and open for the public to enjoy. Visit our volunteer page for more information about how you can participate.
Last updated: March 9, 2023