Place
Mary Ann Shadd Cary House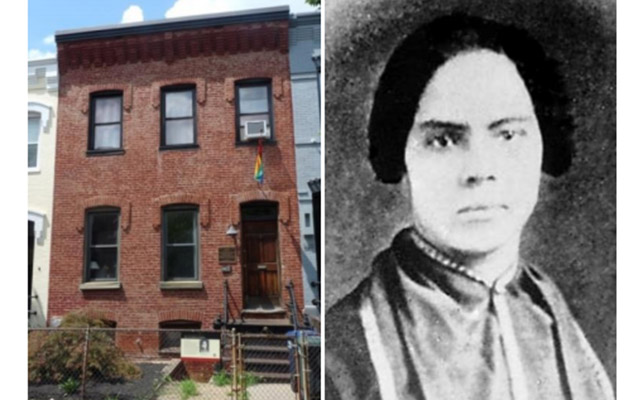 Location:
Northwest Washington, DC
Designation:
National Historic Landmark
Well-educated, vivacious, with determination shining from her sharp eyes, she threw herself singlehanded into the great Canadian pilgrimage when thousands of hunted black men hurried northward and crept beneath the protection of the lion's paw.
–A description of Mary Ann Shadd Cary by W.E.B. Dubois
Mary Ann Shadd Cary was one of the most outspoken and articulate female abolitionists of the 19th century. She played many roles--writer, teacher, lawyer, and mother. The first black newspaperwoman in North America, Shadd Cary's writings show her lifelong commitment to racial and gender equality. In the last years of her life Shadd Cary lived in a rowhouse near U Street in Washington, DC. 
In 1823, Mary Ann Shadd was born free in Wilmington, Delaware. Mary's activist parents, Abraham and Harriet, raised their thirteen children to fight for the abolition of slavery. Fugitive slaves often found refuge in Shadd's childhood home. She grew up around notable Underground Railroad conductors including William Still. 
Since Delaware prohibited black education, the Shadds moved to Pennsylvania where Mary Ann attended a Quaker boarding school until 1839. For the next twelve years, she taught black children in Delaware, New York, and Pennsylvania.
As a free black woman, Shadd experienced sexism and racism in the North. Segregation and male-only careers limited her social mobility. Skin color stratified the black community as well. Light-skinned blacks, like the Shadds, occupied an elite status with access to more education and economic opportunities. Despite her privilege, Shadd fought against both internal and external racial discrimination. In her early twenties, she wrote a letter to Frederick Douglass condemning the lack of activism among free blacks. Douglass published her letter in his newspaper, The North Star. Shadd Cary had entered the public sphere. 
In 1850, Congress passed the Fugitive Slave Act which deprived fugitive slaves of legal rights and imposed harsh penalties on those who aided fugitive slaves. Along with scores of other free and enslaved blacks throughout the nation, Shadd and her brother Isaac emigrated to Canada. She settled in Windsor, Ontario where she published a widely-circulated pamphlet titled "A Plea for Emigration; or, Notes on Canada West." The document promoted the many opportunities available to blacks in Canada. In 1853, Shadd founded Canada's first-antislavery newspaper, The Provincial Freeman. The weekly publication encouraged blacks to flee America for their freedom. The male-dominated profession necessitated that Shadd hide her position as editor. Still, she lectured in Canada and the United States to increase subscriptions. She also publicly solicited aid for runaway slaves at great risk to her own personal welfare. Family and friends knew the dynamic young female editor as "the Rebel."
In 1856, Shadd married Toronto barber, Thomas F. Cary. Thomas never left Toronto and the couple never lived together. Shadd Cary's extended family continued to be involved in the abolitionist cause. In 1858, John Brown held a secret "convention" at Shadd Cary's brother's home. In 1860, Thomas Cary died leaving Shadd Cary pregnant with their second child and three stepchildren. After the outbreak of the Civil War, Shadd Cary returned to the United States to become a Recruiting Officer for the Union Army in Indiana.
After the war, she moved to Washington, DC, to teach. In 1867, Shadd Cary enrolled in Howard University's law program. For unknown reasons, it took her sixteen years to graduate. Later in her life, she fought for women's suffrage. Shadd Cary testified before Congress in support of the 14th and 15th Amendments, although publically taking offense that the legal writing was not gender neutral.
Mary Ann Shadd Cary died of stomach cancer in 1893. She was buried in Columbian Harmony Cemetery in Washington, DC. Located in the U Street Corridor, Shadd Cary's brick row-house is a lasting reminder of her extraordinary civil rights activism and her defiance of societal constraints.
A recent project through the Underrepresented Community Grant Program, which works to diversify nominations submitted to the National Register of Historic Places (NRHP), funded an effort to recognize the significance of this property related to women's rights history. The existing NRHP nomination was amended to emphasize the importance of this property related Mary Ann Shadd Cary's fight for women's suffrage.
Sources:  
"Harmony Memorial Park." Maryland Inventory of Historic Properties Form. Maryland Historical Trust 2009. Accessed 11-10-2016.
Rhodes, Jane. Mary Ann Shadd Cary: The Black Press and Protest in the Nineteenth Century. Bloomington: Indiana University, 1998.
Tobin, Jacqueline and Hettie Jones. From Midnight To Dawn: The Last Tracks of the Underground Railroad. New York: Double Day, 2007.
Yee, Shirley J. "Finding A Place: Mary Ann Shadd Cary and the Dilemmas of Black Migration to Canada, 1850-1870." Frontiers: A Journal of Women Studies 18, No. 3 (1997): 1-16.
Yee, Shirley J. "The Life and Times of Mary Ann Shadd Cary," H-Net.org. July 1999.
National Historic Landmark Nomination of the Mary Ann Shadd Cary House
Learn more about Mary Ann Shadd Cary with the "Discover the Mary Ann Shadd Cary House: A Lightning Lesson from Teaching with Historic Places."
National Historic Landmarks (NHLs) are historic places that possess exceptional value in commemorating or illustrating the history of the United States. The National Park Service's National Historic Landmarks Program oversees the designation of such sites. There are just over 2,500 National Historic Landmarks. All NHLs are also listed in the National Register of Historic Places.
Last updated: November 13, 2020