Place
Sun Lakes-Dry Falls State Park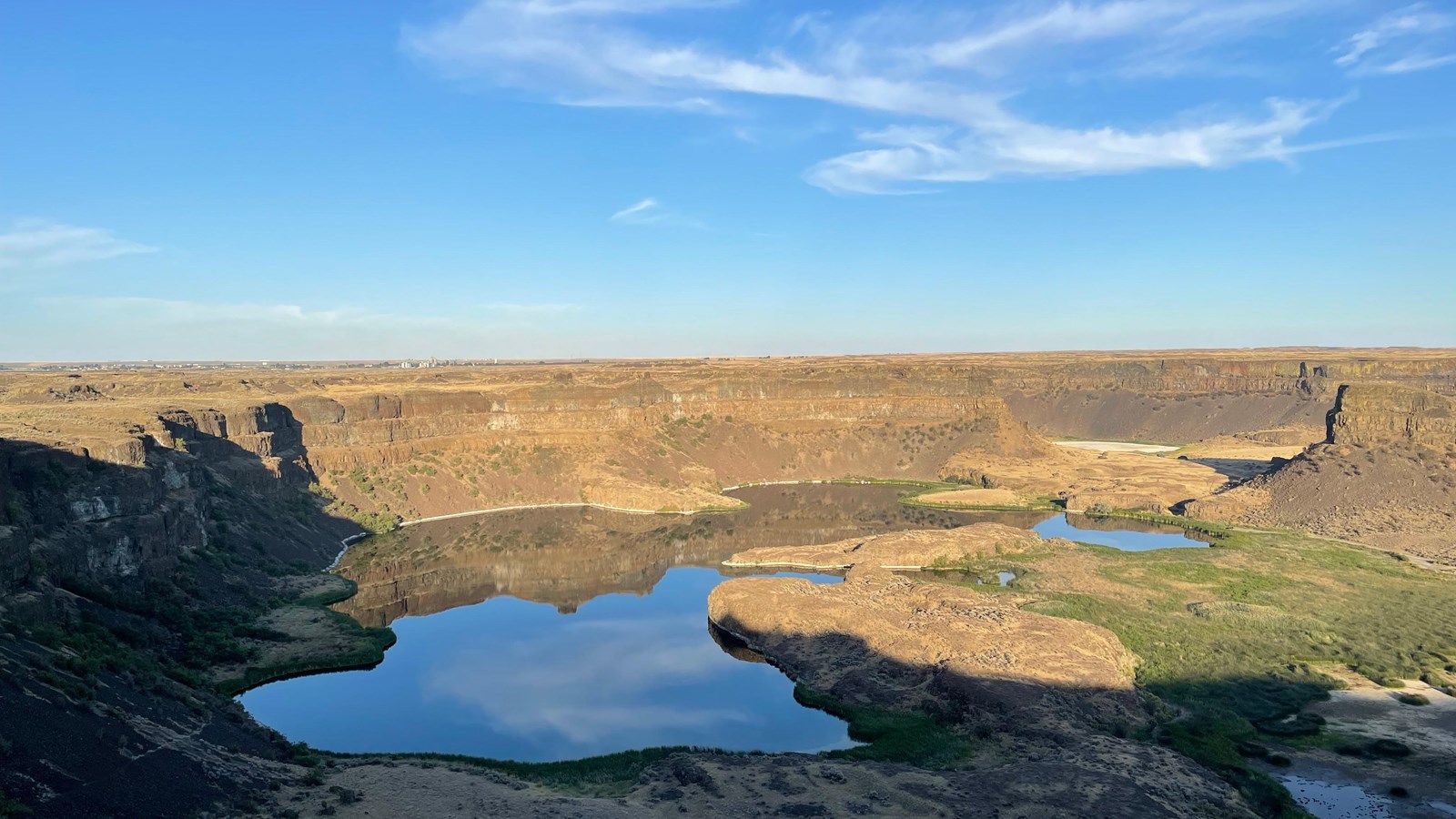 Location:
35661 HWY 17 North Coulee City, WA 99115
Designation:
National Natural Landmark
Gifts/Souvenirs/Books, Historical/Interpretive Information/Exhibits, Information, Information - Maps Available, Information - Ranger/Staff Member Present, Parking - Auto, Picnic Shelter/Pavilion, Picnic Table, Restroom, Restroom - Seasonal, Scenic View/Photo Spot, Toilet - Flush
As you enter Sun Lakes-Dry Falls, you may feel like you're on another planet. The park is surrounded by one of Washington's most striking and historically significant landscapes.
Dry Falls is a geological wonder of North America. Carved by the Ice Age Floods more than 13,000 years ago, the former waterfall was once four times the size of Niagara Falls. Today, the 400 foot-high, 3.5 mile-wide cliff overlooks a big sky and a landscape of deep gorges and dark, reflective lakes. The park is a notable site along the National Ice Age Floods Geologic Trail.
Visitors – especially history and geology geeks – will appreciate the Dry Falls Visitor Center, where interpretive displays tell the story of the floods and their effects on Washington's landscape. Call (509) 632-5214 for seasonal hours and to arrange a tour.
The park also offers great recreation. Nothing beats the boat launch and social atmosphere of Park Lake, and shimmering Deep Lake presents a remote paddling and kayaking experience. The lure of Dry Falls Lake entices anglers to cast out for trout. Hiking trails wind through the scented, sage-dotted hills to table-top cliffs with panoramic views. The park even offers nine-hole and miniature golf for visitors who equate a desert vacation with a good game on the green.

Hours of operation can be found at the Dry Falls Visitor Center webpage.
Last updated: June 28, 2023