Place
Stout Memorial Grove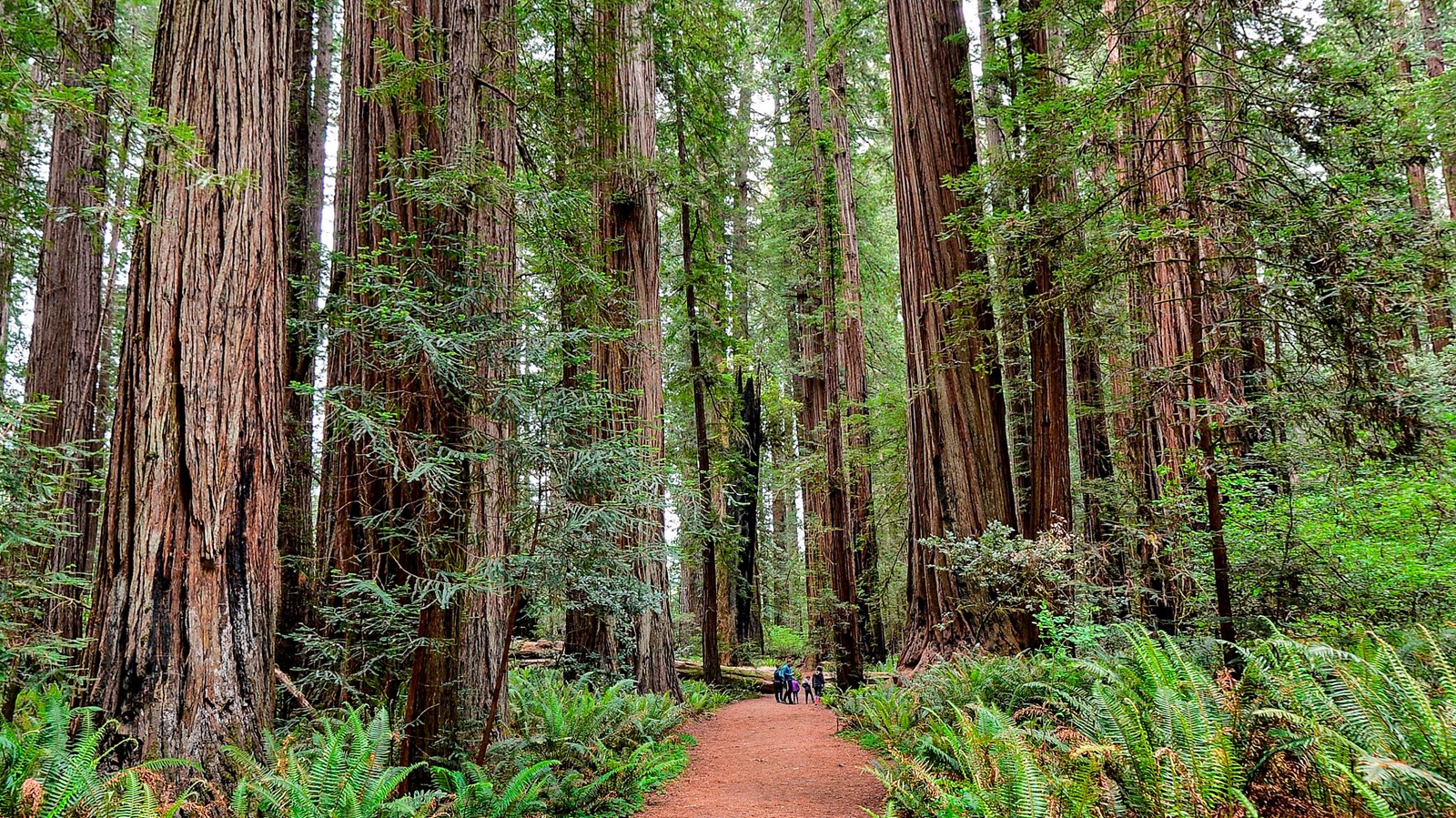 Location:
East of Crescent City, CA.
Significance:
One of the most popular and enchanting groves of redwoods.
Beach/Water Access, Information Kiosk/Bulletin Board, Parking - Auto, Scenic View/Photo Spot, Toilet - Vault/Composting, Trailhead, Trash/Litter Receptacles
A Short Walk With An Adventure To Get There
These 300-foot trees are considered by many as the heart of Jedediah Smith Redwoods State Park. This majestic 44-acre grove of old-growth redwoods is a popular summer destination for those willing to take on the challenge of getting there.
In 1929, Clara W. Stout, widow of lumberman Frank D. Stout, donated this tract of old-growth redwood forest to Save the Redwoods League. She did this in memory of her late husband. Stout Grove then became the first dedicated grove in Jedediah Smith Redwoods State Park.
The trail is a short 0.5 mile (0.8 km) in length and the grove is on the edge of the beautiful Smith River. A short spur trail decends down twenty feet to the confluence of Mill Creek and the Smith River. In summer many people picnic, paddle, and swim at this cobbled beach. In summer this is also where the hikers' bridge crosses the Smith River.
Getting to and from this grove takes some time and effort and that is why we recommend allowing two hours for your visit.
Option1. Year round. Smaller vehicles like cars and vans can access the trailhead and parking lot by driving the eastern section of
Howland Hill Road
. Howland Hill Road is winding, narrow, mostly unpaved, and is not suitable for large vehicles. 
There is no parking for RVs and trailers at the trailhead.
Option 2. In summer, you can park any vehicle at the 
Jedediah Smith Redwoods State Park Campground
 Day Use Area ($8 fee required). Follow the footpath 0.8 miles (1.2 km) to access the campground from the Day Use Area. From the campground walk towards the Smith River and along the riverbank you will find a walking trail heading upstream. This trail is about half a mile and then crosses the summer hikers' bridge to Stout Memorial Grove.
Safety Tips
We recommend you purchase and use a good map and trail guide for your adventures in Redwood National and State Parks. Don't rely on online maps when you are here.

To protect the habitats, leave no trace also means staying on the developed trail. Please don't go off-trail and make any new trails. These forests grow by the inch, and will die by your foot.

To protect the wildlife (and you and other visitors), pets are not allowed on park trails.

Cell coverage is very limited and cannot be relied on in an emergency. Have a plan for checking in and checking out with a friend when you are here.
Last updated: November 16, 2022