Boston and the Underground Railroad
Spanning from the Old State House to the beginning of Long Wharf, State Street played a role in several of Boston's high-profile fugitive slave cases.
In April 1851, federal marshals marched Thomas Sims down State Street to board the Acorn, a ship docked at Long Wharf, following his arrest under the provisions of the Fugitive Slave Law. Though authorities escorted Sims in the pre-dawn hours to avoid a public spectacle, roughly 100 abolitionists bore witness to protest his rendition. Three years later, federal troops brought Anthony Burns, a freedom seeker from Virginia, down State Street to return him to enslavement as well. The rendition of Burns became one of the largest anti-slavery demonstrations in United States history, with over 50,000 protesters lining both sides of State Street.
In July 1856, a ship captain from Mobile, Alabama discovered a stowaway while coming into Boston Harbor and imprisoned him onboard. Massachusetts authorities, with a writ of Habeas Corpus secured under the new Personal Liberty Law, seized the stowaway from his captors to bring him to safety. According to the Lowell Daily Citizen and News, "While going up State Street an attempt was made to rescue the man, the large crowd supposing him to be in the hands of the U.S. slave-catchers, but when they found that he was in the hands of friends they accompanied him with shouts of joy."1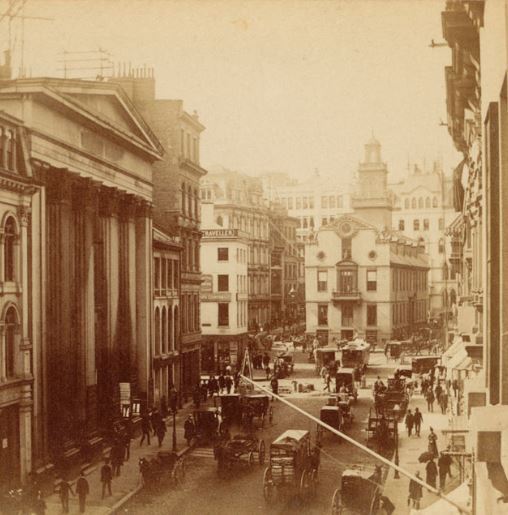 View of State Street leading up to the Old State House from the 1850s-1870s. (Credit: Boston Public Library)
Footnotes
Lowell Daily Citizen and News, July 17, 1856.