Place
La Purísima Socorro Mission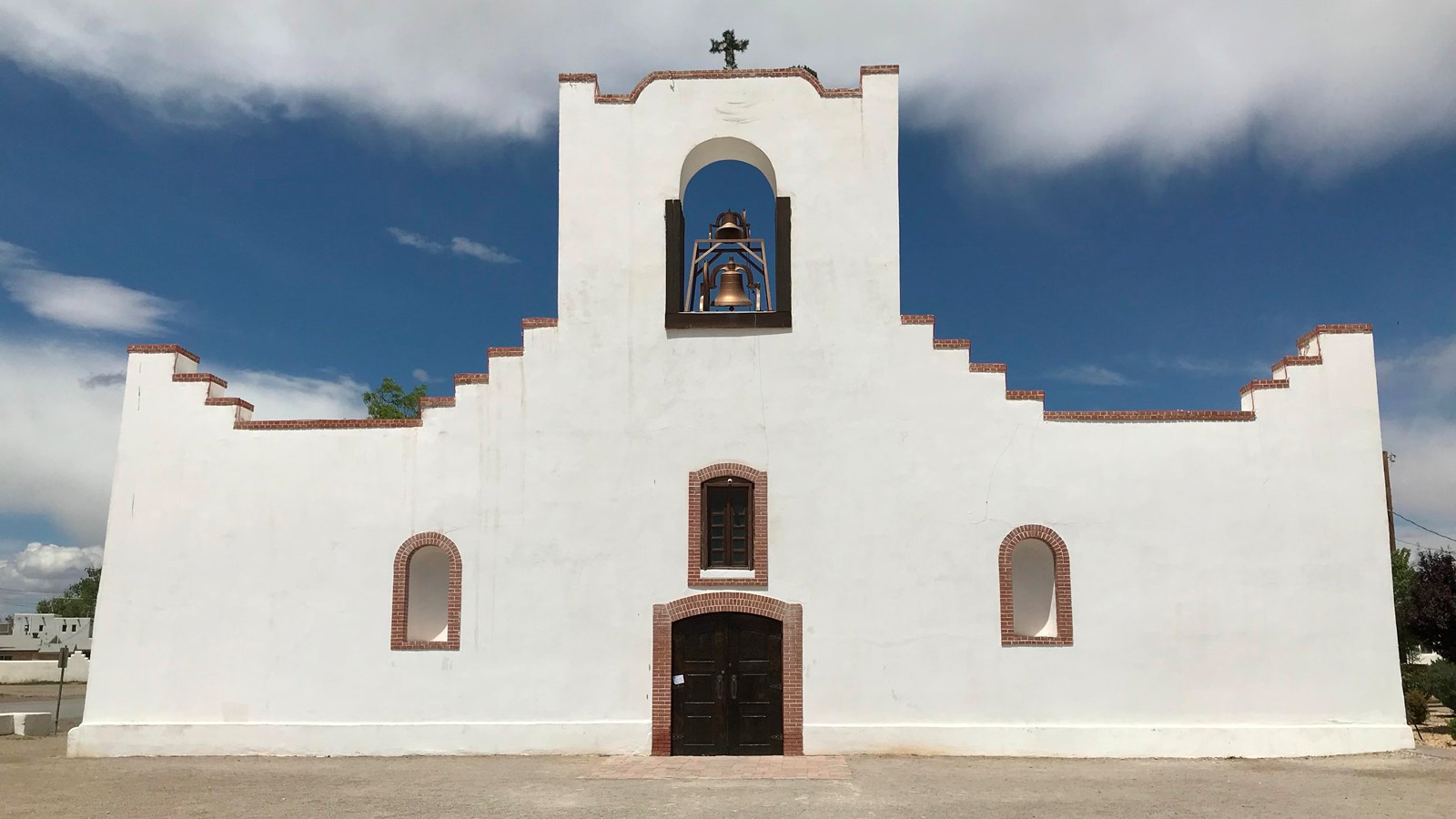 Location:
328 S. Nevarez Road, Socorro, Texas
Significance:
Following the Pueblo Revolt of 1680, Spanish and American Indians fled south to this site and named it after the place in New Mexico where they had previously resided.
Designation:
National Register of Historical Places; certified site
MANAGED BY:
La Purísima Socorro Mission
Nuestra Señora de la Limpia Concepción de los Piros del Socorro
(Our Lady of the Immaculate Conception of the Piros of Socorro)

Weathered wooden crosses and marble headstones punctuate the cemetery that fronts the graceful stepped facade of the 1843 Socorro Mission, just south of El Paso, Texas. Highlighting such surnames as Domínguez, Armendariz, Apodaca, Peña, López, Nuñez and Holguin, the cemetery documents over a century of life and death in the 17th-century settlement of Socorro del Sur, located on the southern segment of El Camino Real de Tierra Adentro, locally known as the Mission Trail. The cemetery only tells part of the fascinating survival story of the Socorro Mission of Nuestra Señora de la Purísima Concepción (Our Lady of the Immaculate Conception) and the community it has served for more than 300 years.

St. Michael has since been widely revered as Socorro's protector -- especially after the mission's survival as another flood raged through the area in 1872. However, the end of commercial activity on El Camino Real when the railroad arrived in the 1880s did not spare the community. Nor was it spared the modern development of the 20th century that further fragmented the area. Yet in the 1990s, when years of trapped moisture and deterioration threatened to destroy Socorro Mission, various powers intervened to ensure its protection.

The community launched a full-scale church restoration that resulted in the making of 22,000 adobes to stabilize walls, repairs to the bell tower, and conservation of cherished interiors. After seven years of work, St. Michael resumed his place beside the altar, and the doors of Socorro Mission opened to new generations. With every new baptism or graveyard burial at Socorro Mission today, the story of Socorro del Sur and the legacy of El Camino Real carry on.
Site Information
Location (328 S. Nevarez Road, Socorro, Texas)
Last updated: June 16, 2023