Place
Savannah & Chatham County, Georgia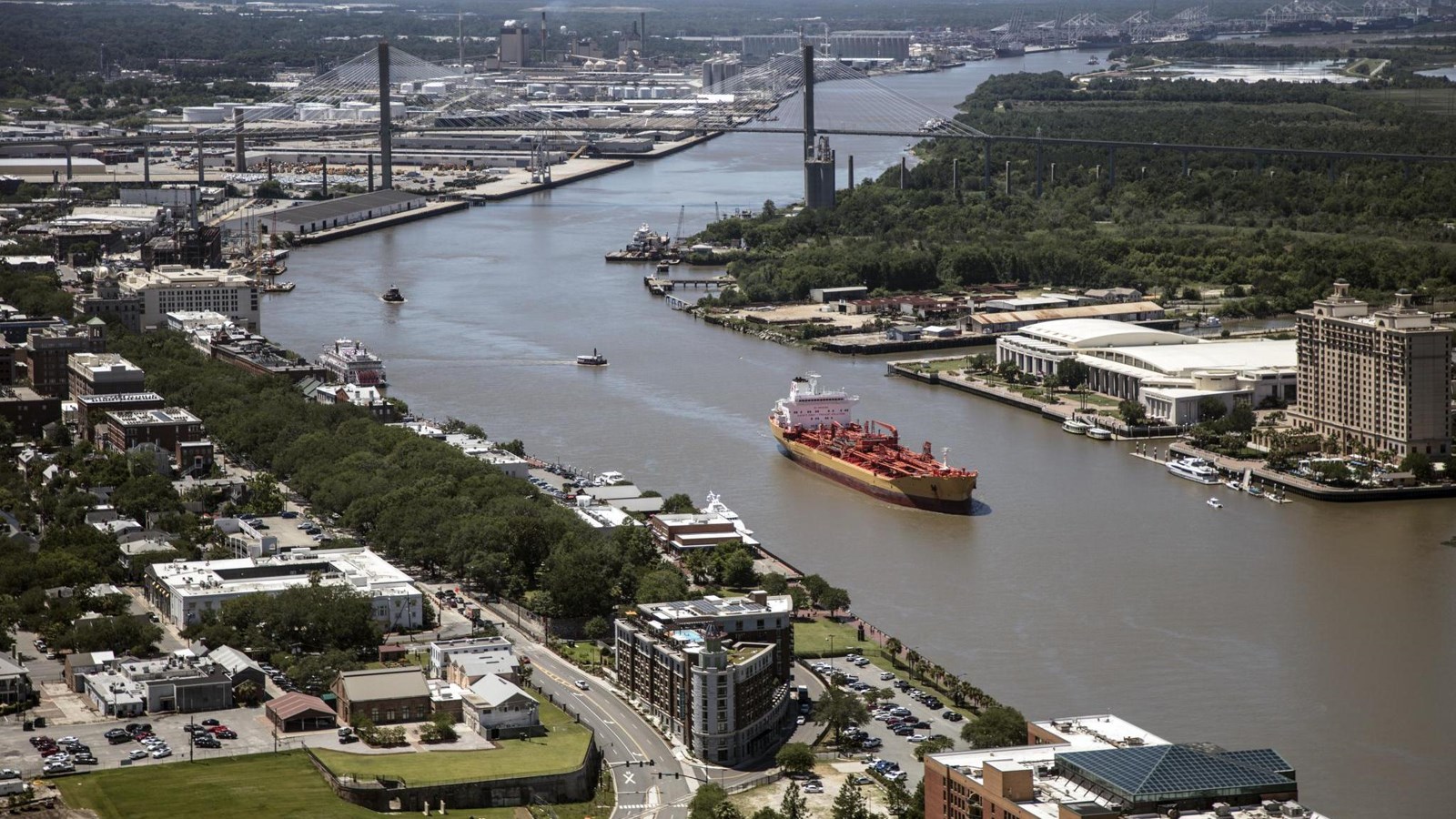 Location:
Savannah & Chatham County, Georgia
Significance:
A major port for both supplies and maritime construction, a hub for manufacturing and civil defense, training facilities for 70,000 airmen, and deployment of 9,000 aircraft, with the Eighth Air Force.
Designation:
American World War II Heritage City
American World War II Heritage City

During World War II, port facilities in Chatham County, Georgia, along the Savannah River shipped out 1.24 million tons of war materiel produced by local companies and served as the port of embarkation for supplies produced farther inland and shipped through Savannah by rail and then ship. Local factories produced asphalt, boxes, paper, bomb casings, and tractor trailers for military use. Local shipbuilders produced various auxiliary craft, 25 minesweepers and 85 Liberty transport ships. The 400-acre Savannah Quartermaster Depot distributed over 1million pounds of supplies each year during the war. The area's important maritime facilities were protected by the U.S. Coast Guard with assistance from local civil defense volunteers. Hunter Field was integral for the training of 70,000 airmen and the equipment of 9,000 aircraft scheduled for deployment with the Eighth Air Force.

Civil defense was an important component of the war effort, especially because of the importance of maritime construction and shipping along the Savannah River and the associated coastline. Coastal defense was augmented by multiple civilian groups (with 5,000 participants) and the Georgia State Guard that searched for marine and airborne threats. Local citizens also purchased the B-17 bomber "City of Savannah" through war bond contributions.

The U-boat sinking of the SS James Oglethorpe in 1943 is commemorated with a historic marker, as is the McKelvey-Powell Building, which served as a USO facility for African American servicemen. A marker at Hunter Field describes it as the "Birthplace of the Eighth Air Force." Another monument recognizes a Rescue Boat Station along the coastline and Fort Screven on Tybee Island, which was listed on the National Register of Historic Places. The community boasts several memorials, both buildings, structures, and monuments, to the home front and servicemen and women and supports several annual memorial events that commemorate the period. Prominent among local museums is the National Museum of the Mighty Eighth Air Force.
Last updated: September 21, 2023