Place
St. Michael Cathedral National Historic Landmark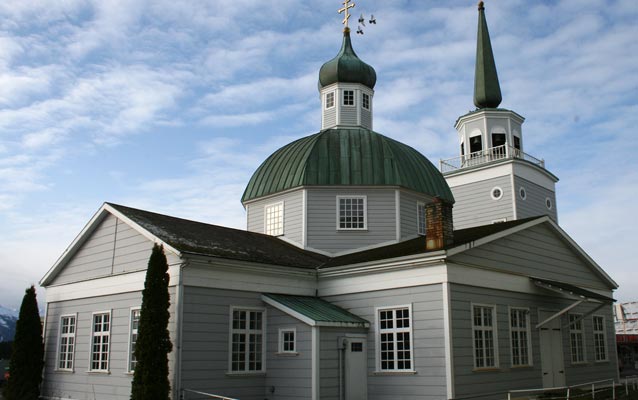 Significance:
St. Michael Cathedral is the principal representative of Russian cultural influence in the 19th century in North America.
Designation:
National Historic Landmark designated on June 13, 1962

An Outstanding Example of Russian Orthodox Architecture
Constructed between 1844 and 1848, the Cathedral of St. Michael the Archangel is the principal representative of Russian cultural influence in the 19th century in North America. From 1840 to 1872, Sitka was the Seat of the Russian Orthodox Diocese which governed all of North America, and thereafter it continued as the Seat of the Diocese of Alaska. This outstanding example of Russian church architecture was by far the largest and most imposing religious edifice in Alaska until well into the 20th century. The present cathedral is a reconstruction of the original building which burned to the ground in January 1966.

Architectural Highlights
The original cathedral was built of native logs with clapboard siding. The roofs, with the exceptions of the domes which were metal, were of wood shingle and later replaced with asphalt shingles. The architect was the first Orthodox Bishop of Alaska, Innocent Ioann Veniaminov. After the cathedral burned in 1966, it was reconstructed using drawings made in 1961 by the Historic American Buildings Survey. The object of the reconstruction was to create a reproduction of the original structure, while incorporating modern fire-resistant materials. The building today is constructed of concrete and steel walls with vinyl siding recreating the original texture, with asphalt roof shingles and copper roofing on the domes.
The Cathedral is constructed in the form of a Greek cross with a belltower, with the exterior elevations expressing interior spaces. The origin of this concept in Alaska may be seen in drawings of another church designed by Bishop Innocent, the Church of the Holy Ascension, built at Unalaska in the Aleutian Islands in 1825. There, too, the church had two domes, one reflecting the inner space of the center of the cross.

Additional Information
Library of Congress, Historic American Buildings Survey - Photos and Drawings
National Register of Historic Places - Official Nomination Form
Sitka's National Historic Landmarks: A Window into Alaska's Past
Last updated: October 26, 2021