Place
Royal Marines' Cemetery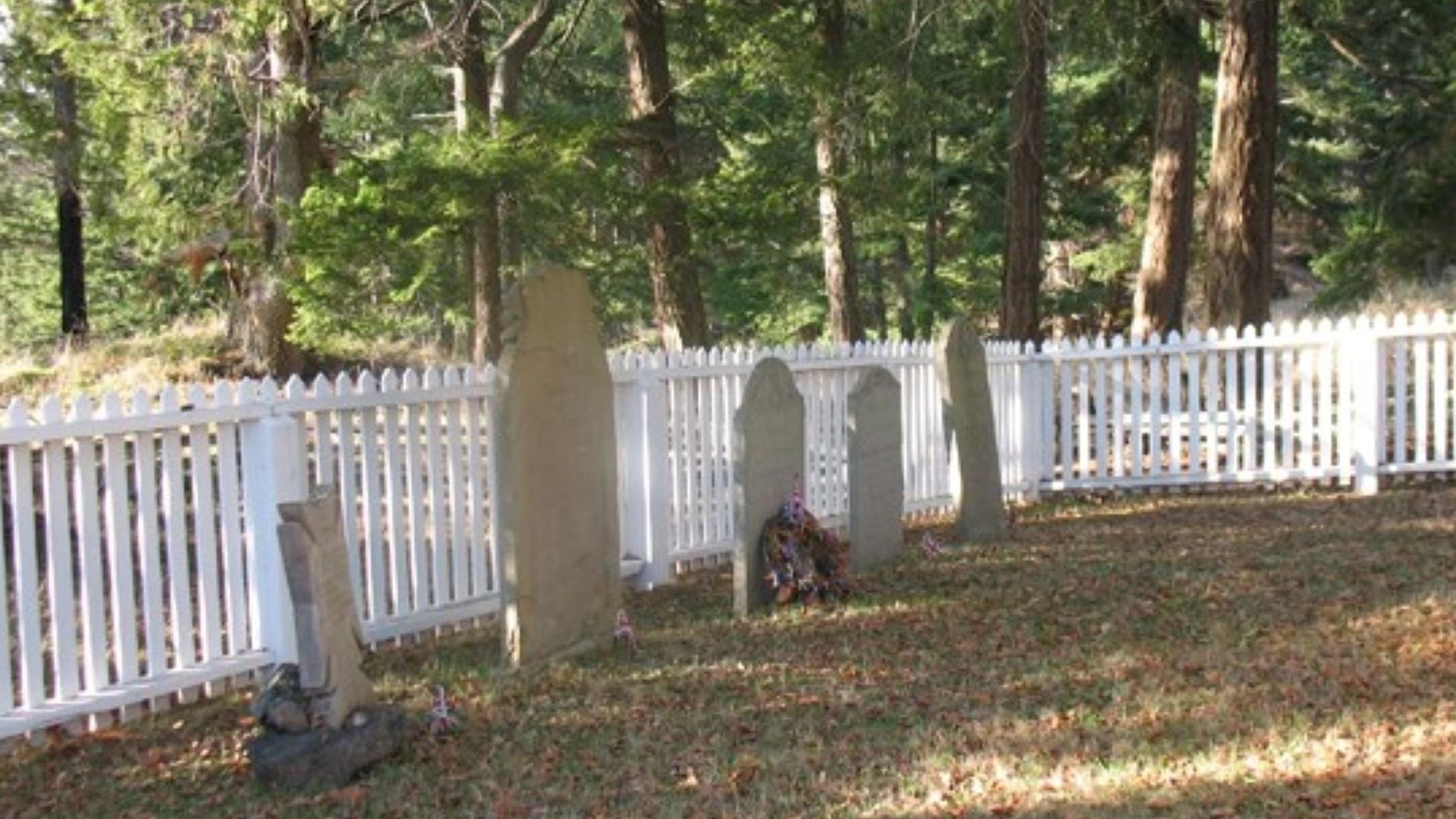 Significance:
Final Resting Place of Royal Marines
Jim Crook
was one year old when his family began homesteading at English Camp. The Crook family made the structures the Royal Marines had left behind a year earlier into homes and workshops. In addition to the officers quarters, blockhouse, commissary, and hospital, the English also left behind a cemetery, where the final remains of seven individuals still lie in honor to this day. These soldiers did not die in combat, but were largely the victims of tragic accidents, such as drownings and an unintentional shooting. Nonetheless, they were soldiers deployed in a near-war and this memorial day we celebrate their memory.
Jim Crook lived almost his entire life at English Camp. As a senior citizen, he reflected on the cemetery for a newspaper interview. "I can even remember what it looked like when I first started going up there. There was a different kind of fence and a gate with an arch over the top [and] some faded lettering on the arch."
Crook earned 10 pounds a year from the English government for maintaining the cemetery where at least 5 Royal Marines died while serving their nation (the identity of two of the individuals buried at the English Camp Cemetery have been lost). According to a member of the Canadian Navy, his annual pay arrived dramatically, being "taken over by a Canadian Naval Ship" that landed at English Camp. Crook was not sure of how long he'd been doing his duties, estimating in 1956 that he'd "been tending that plot for 40 some years." Crook explained that as a graveyard tender he would "build a fence and a stile and I paint them. When they wear out I build another fence ad stile. I keep the grass and weeds down and two-three times a year I gather up the fallen leaves."
The headstones at the Royal Marines' Cemetery read as follows:
"Davis, William, d. May 07, 1868, age 26, Pte. 109th Company RMLI, accidentally drowned. Ellis, Jos, d. Jan 04, 1863, Pte. RMLI, accidentally drowned. Riddy, Thomas, d. Jan 04, 1863, Pte. RMLI, accidentally drowned. Stewart, G. E., d. Jun 01, 1865, age 28, Corp. (corporal) RMLI, suddenly departed this life, Native of Derby, England. Taylor, William, d. Jan 26, 1868, age 34, (civilian) accidentally shot by his brother. Weasley, James, d. Apr 07, 1869, Pte. 27th Company RMLI, drowned in the adjacent harbor (
Garrison Bay
).
Today, our maintenance staff carries on the tradition of caring for these military graves that Jim Crook initiated. The Royal Marines cemetery is about .25 miles from the trailhead of the
Young Hill Trail
. Visitors can pay their respect to these men and their national service during a visit to our park.
Last updated: July 28, 2022