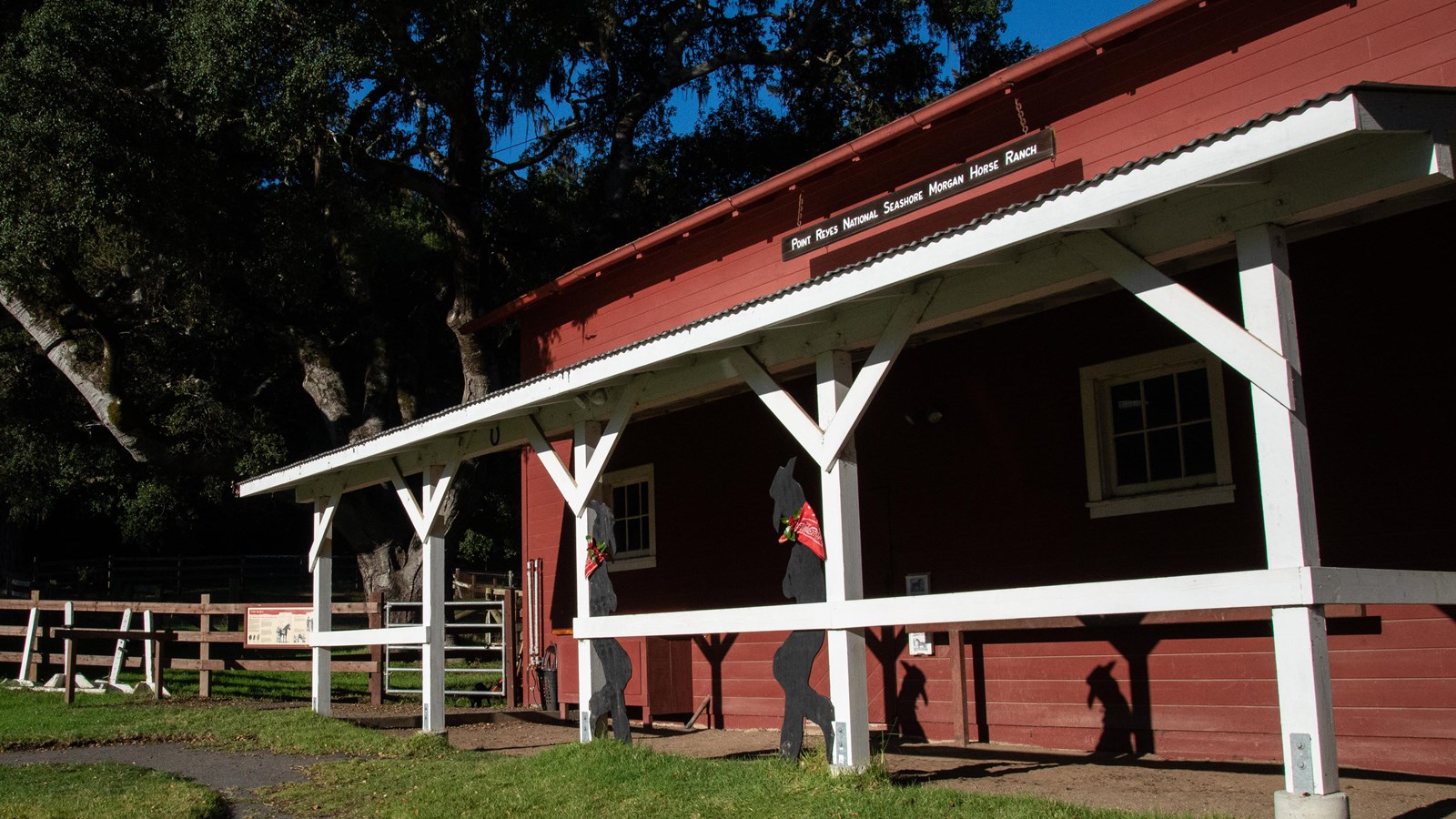 Location:
Point Reyes National Seashore's Morgan Horse Ranch is located to the west of the Bear Valley Trailhead's parking lot, Point Reyes Station, Marin County, California. Geographic Coordinates: 38.0401, -122.8024.
Significance:
Historic ranch for breeding and training National Park Service patrol horses
Cellular Signal, Historical/Interpretive Information/Exhibits, Picnic Table, Recycling, Tactile Exhibit, Trash/Litter Receptacles, Wheelchair Accessible
The Morgan Horse Ranch was established at Point Reyes National Seashore to raise and train Morgan horses for the National Park Service. Due to their unique physical stature and calm temperament, the Morgan Horse breed made for the perfect patrol partner. The ranch was dedicated in 1970 with the help of the Northern California Morgan Horse Association. At its height, the ranch maintained a herd of approximately 35 to 40 horses. As foals were born, mature animals trained at the ranch were transferred to other parks where they helped rangers patrol both backcountry and urban environments. For many years, classes were also held at the ranch to train park rangers in horsemanship. Though the breeding program was phased out in the late 1990s as more parks started maintaining their own stables, Point Reyes National Seashore still maintains a small herd of working horses. The four horses living at the ranch (as of April 2023) are Honcho, Mira, Knight Hawk, Gentry, and Moon. Together they assist rangers with everything from Search and Rescue to harbor seal counts and the Thule elk census. They also serve as a friendly presence at special events—Honcho and Elvis (who passed on January 1, 2023) even had the distinct honor of riding in the 2016 Rose Bowl Parade to celebrate 100 Years of the National Park Service!
Visiting the Morgan Horse Ranch
If you would like to visit the horses, learn more about this amazing breed and their connection to the National Park Service, the Morgan Horse Ranch is open to the public seven days a week. Rangers or volunteers are typically present from 9 am to 4 pm, during which time you are able to view the exhibits and facilities inside the ranch buildings. Though our horses are always happy to greet visitors, for their safety and yours, please do not enter the corrals or feed the horses at the fence line. The Morgan Horse Ranch is located on a small hill to the southwest of the Bear Valley Visitor Center. To visit, walk up the maintenance road located at the southeastern end of the Bear Valley parking lot. With a disability parking placard or plate, you may drive your vehicle along this maintenance road to a small parking area close to the stables. Exhibit areas are accessible.
Learn more about the history of the ranch and Morgan Horses on the park's Morgan Horse Ranch page.
Last updated: April 13, 2023