Place
Pioneer-Mormon Cemetery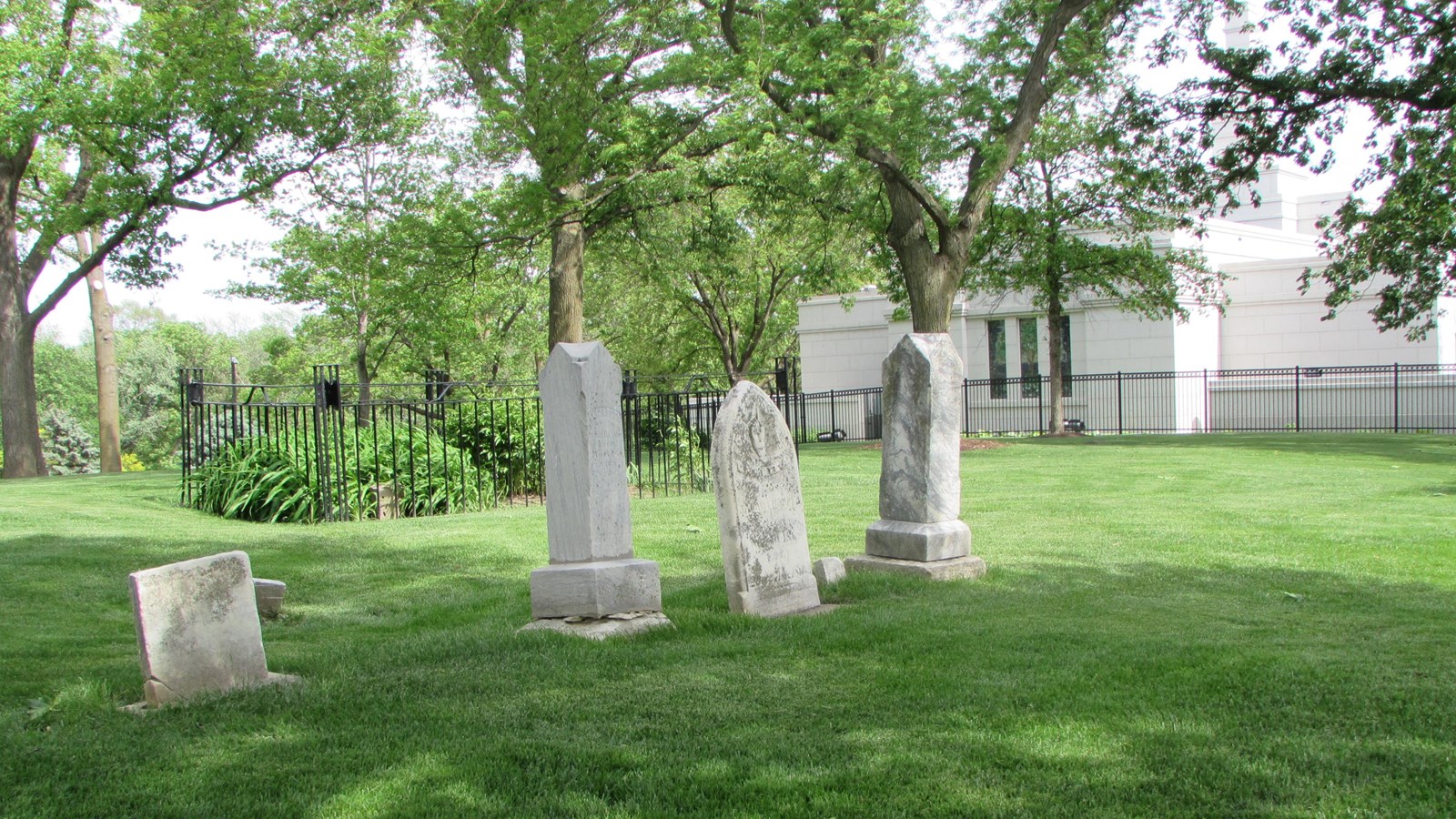 Location:
3301 State Street
Significance:
Exploration/Settlement
Designation:
Omaha Local Landmark
MANAGED BY:
Winter Quarters Nebraska Temple
The Pioneer-Mormon Cemetery is in the Florence neighborhood of North Omaha. Designated a
Local Landmark
by the City of Omaha in 1990, the cemetery marks the final resting place of 359 Mormon pioneers who died en route to Salt Lake City, Utah, along the
Mormon Pioneer National Historic Trail
. Presently the cemetery contains a bronze statue by Salt Lake City artist Avard Fairbanks. Erected in 1936, the impressive monument depicts parents who have committed the body of an infant to the grave. The cemetery is adjacent to the Mormon Trail Center at historic Winter Quarters, a visitors' center and museum.
After migrating from Fayette, New York, to Nauvoo, Illinois, in 1839, the Mormon Church remained headquartered there until 1846 when leader Joseph Smith was killed. Succeeding Smith, Brigham Young began implementing a plan to move the church west. By the winter of 1846, the travelers had arrived west of the Missouri River, and with permission from the Omaha Indians, set up winter quarters in what is today Omaha's Florence neighborhood, staying through the winter of 1846-1847. They quickly erected 500 log cabins and 83 sod houses. The winter was harsh, and the many Mormons who perished are buried in the Pioneer-Mormon Cemetery. The surviving pioneers continued their journey in the spring eventually reaching Salt Lake City.
While the cemetery commemorates the Mormons' winter in Omaha, it also serves as a reminder of the creation of the trail systems that opened the American West. Like the Oregon and California trails, the Mormon Pioneer Trail was used by emigrants looking to travel to the west for religious, economic, and social reasons. Today the Mormons' route is commemorated as the Mormon Pioneer National Historic Trail that crosses five states and covers 1,300 miles. Nearly 70,000 Mormons traveled along the route from 1846 to 1869. The Pioneer-Mormon Cemetery recognizes the importance of Omaha as a stop on the great migrations westward and the routes that took Americans there.
Last updated: September 8, 2022