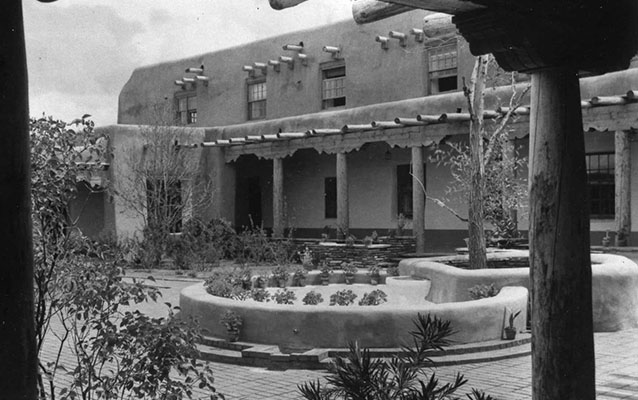 Quick Facts
Location:

1100 Old Santa Fe Trail, Santa Fe, NM 87505

Significance:

Largest known adobe office building and one of the largest secular adobe buildings in the United States.

Designation:

National Historic Landmark

OPEN TO PUBLIC:

No
The Old Santa Fe Trail Building, an  iconic building located in Santa Fe, New Mexico, is a masterpiece of Spanish Pueblo Revival architecture. The structure is listed on the National Register of Historic Places and National Historic Landmark and designated in the category of "Must be Preserved".

The Civilian Conservation Corps (CCC), constructed the building between 1936-1939.  The CCC was a government work program that provided jobs for young, unemployed men during the Great Depression. The New-Deal era building is the largest in-use adobe office building in the United States.

The building is currently closed to the public for stucco rehabilitation however, it is typically open to the public and interpreted by the NPS. The public uses the building as a ceremonial location for many NPS and non-NPS functions. Private groups such as the CCC alumni use the space for interpretive purposes and provide tours to visiting dignitaries.