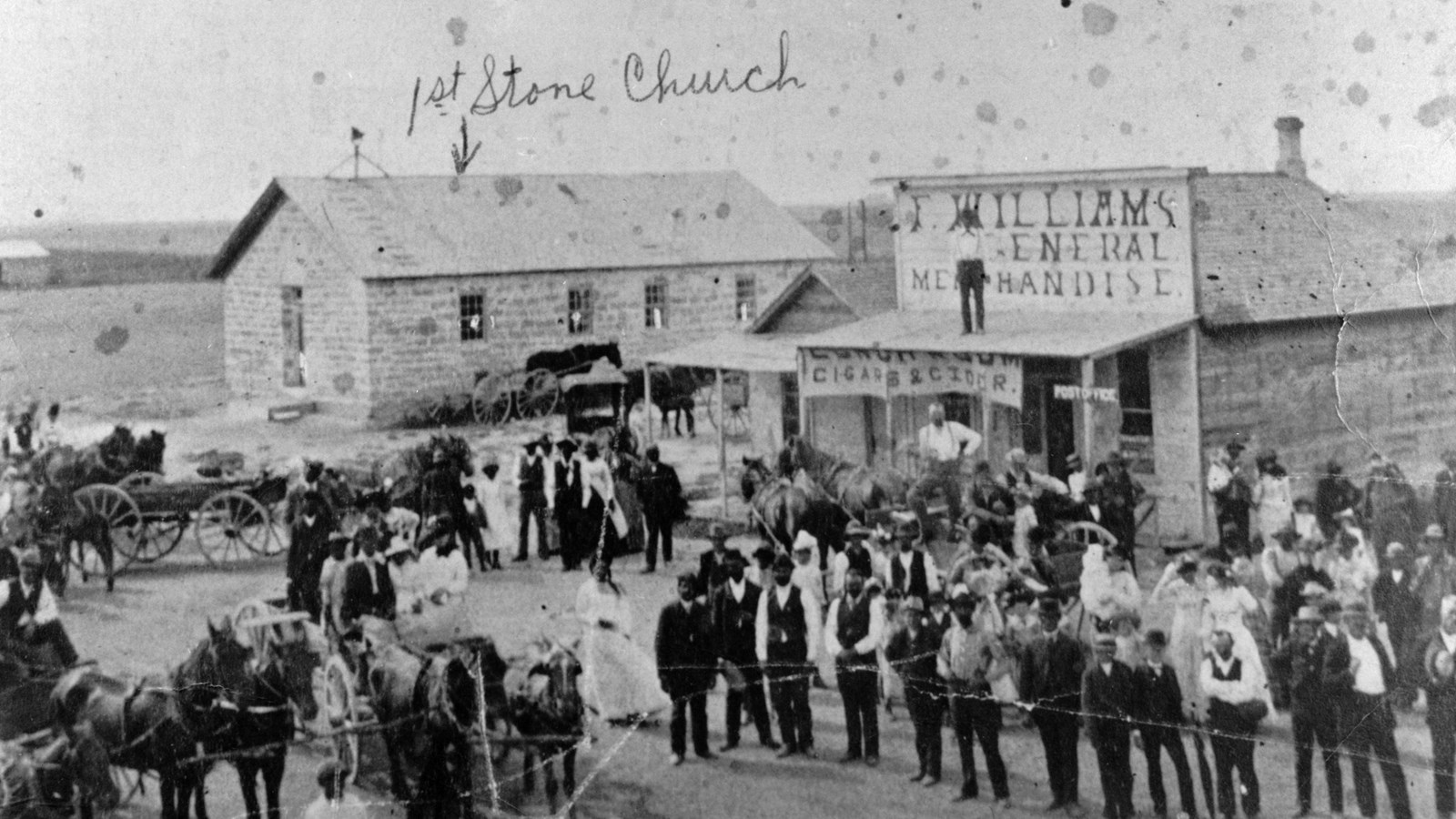 Location:
Nicodemus, Graham County, Kansas
Significance:
Nicodemus is the longest-lasting black homesteader colony in America.
Designation:
National Historic Site
Nicodemus is the longest-lasting black homesteader colony in America.
The history of Nicodemus starts at the end of the Civil War. Many former enslaved people began moving out of the south to make a living farming their own land. In 1877, six black entrepreneurs in Topeka, Kansas joined with a white developer to form the Nicodemus Town Company. They wanted to establish an all-black community utilizing the Town site Preemption Act of 1844 and the Homestead Act of 1862. The group selected a site in north-central Kansas in the Solomon River valley.
The first group of settlers arrived from Topeka. The company then recruited approximately 300 migrants from Kentucky. Many of these settlers left soon after they saw what was available in the town of Nicodemus. Within two years, 500 to 700 people had migrated to Nicodemus primarily from Kentucky, Tennessee, and Mississippi.
By 1879, the town had a general store, hotel, churches, livery stables, post office, and a real estate office. Some of the early structures including
Z. T. Fletcher's
general store began as dugouts or sod buildings. Nicodemus residents established Graham County's first public school.
William Kirtley
and Francis Fletcher were two citizens who spearheaded the educating the community's children. Town leaders gained political prominence in Graham County and Kansas politics.
The most important event in the town was Emancipation Day. It is still celebrated in late July with speeches, bands, games, sports, and food. Today this celebration is called Homecoming.
Many of the settlers filed homestead claims. By 1899 they had received 114 homestead patents, making them owners of 18,126 acres. The economic lifeblood of the community was farming the homesteads.
By the mid-1880s, Nicodemus was a moderately prosperous settlement. Enjoying the highs when harvests were good but suffering lows when hit by bad weather or low prices. The population stabilized at around 300.
Two factors loomed large for the town's future: obtaining a railroad line and becoming the county seat. Neither transpired, and many merchants left for nearby Bogue, the railhead. But while the town of Nicodemus declined after 1888, the farmers persevered.
Nicodemus provided safety from the violence experienced by many in the South. It gave residents the opportunity to own land, build farms and a community, educate their children, and govern their own affairs.
Nicodemus still stands as a small village and is designated as a National Historic Site of the National Parks Service.
Learn more about 
Black Homesteading in America
.
STORY MAP
- Six Black Homesteading Communities
Last updated: January 24, 2022