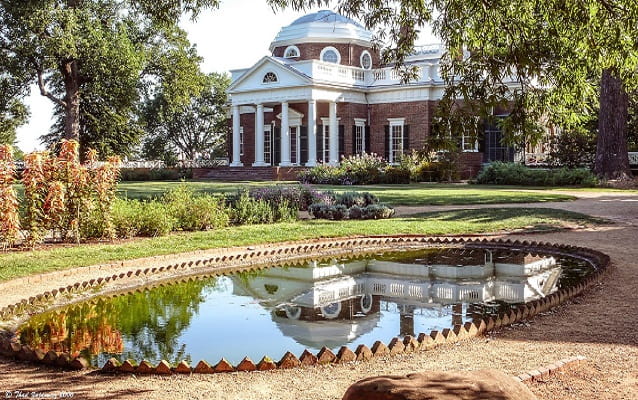 Location:
Charlottesville, VA
Significance:
Home of Thomas Jefferson
Designation:
National Historic Landmark
President Thomas Jefferson sent a letter to Congress on January 18, 1803 from his home, Monticello. In this letter he asked for $2,500 to finance a trek to the American West - up the Missouri River to the Pacific Ocean. It would become known as the Lewis and Clark Expedition. Jefferson had already identified Meriwether Lewis for the expedition, who in 1792 had volunteered for a similar trip proposed by Jefferson to the American Philosophical Society of Philadelphia. That trip never occurred.
Jefferson began building Monticello in 1770, and had completed its western part in 1775. He enlarged it between 1796 and 1809, to the point where it contained 35 rooms. During the enlargement period Jefferson built in display areas meant to house Lewis and Clark's findings.
He created a double-story Entrance Hall in which he planned to display specimens and artifacts from Lewis and Clark's journey. This hall held maps of the world, European sculptures and paintings, and examples of items found in the New World. In the summer of 1805 Lewis and Clark sent back animal skins, bones, and horns, as well as American Indian objects. These arrived in Washington D.C. in August. At the time Jefferson was at Monticello and wrote to Etienne Lemaire on August 17, 1805:
"The barrel, boxes, & cases from Baltimore mentioned in your letter contain skins, furs, horns, bones, seeds, vases & some other articles. Being apprehensive that the skins & furs may be suffering I would wish you to take them out, have them well dried & brushed, and then done up close in strong linen to keep the worm-fly out. As I do not know in what packages they ate, it will be necessary for you to open them all & take out the skins & furs, leaving everything else in their cases . . .
The fate of the American Indian objects, which disappeared after Jefferson's death, remains unknown. Due to Jefferson's pivotal role and personal interest in the expedition, Monticello was chosen to host the first signature event of the Lewis and Clark Bicentennial in January 2003
.
Last updated: October 25, 2017