Place
American Philosophical Society Hall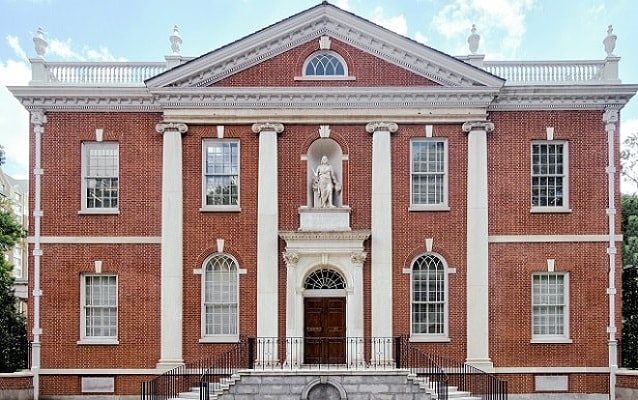 Location:
104 South Fifth Street, Philadelphia PA
Significance:
Houses collections related to Expedition
Designation:
National Historic Landmark
Built in 1789, the American Philosophical Society provided a central meeting place for its members and served many purposes in its early years. Portions of it were leased to the University of Pennsylvania, to artist Thomas Sully as a portrait studio, and the basement was used as a wine cellar for an import business. It became the first home of Charles Willson Peale's famous natural history museum, which included plants and animals specimens, and even included the bones of an extinct mastodon.
President Jefferson was a member, and proposed that the American Philosophical Society outfit an adventurer to explore the American continent. A teenage Meriwether Lewis volunteered to lead this expedition but was deterred by Jefferson. Jefferson ultimately chose André Michaux, a French botanist, to lead this exploration. Although the Michaux expedition was called off, the Society became intertwined with the exploration of the American west. During Lewis's stay in Philadelphia during the Spring of 1803, he took crash courses in a variety of disciplines that he and Jefferson thought would be necessary as leader of the expedition. Among those he consulted were physician Dr. Benjamin Rush and anatomist Dr. Caspar Wistar, both members of the Society.
After the Corps of Discovery disbanded in 1806, many of Lewis and Clark's journals were sent to the American Philosophical Society at Jefferson's urging. The collection consists of 18 small notebooks, approximately 4 by 6 inches, of the type commonly used by surveyors in field work. Thirteen of these are bound in red morocco leather, four in boards covered in marbled-paper, and one in plain brown leather, and there are a number of loose pages and rough notes as well. The journals contain huge volumes of data, going beyond geographical notes and records of temperature and weather. Both men made observations and drew images of the geology and biology of the region, indigenous artifacts, canoes and clothing.
Today, the journals remain an invaluable record of the journey. The Hall
recently opened its doors to the public
for the first time since the early 19th century. On view are exhibitions that explore the intersections of history, art and science, with a focus on the early days of Philadelphia and the nation.
Last updated: October 23, 2017